Prescott Valley couple find 'blessing' in reaching out to neighbors
Fred and JoAnn Williams at the ready to offer helping hand

By
Nanci Hutson
|
HutsonNanci
Originally Published: June 14, 2018 6:07 a.m.
Editor's Note: The Courier wants to highlight those folks in our community who contribute with no fanfare or recognition for the deeds that help others. If you know a neighbor, a volunteer, or a youth who is making a quiet difference — an Unsung Hero — please contact Nanci Hutson at 928-445-3333 ext. 2041 or by email at nhutson@prescottaz.com. This is the first in a periodic series about people who live, work and serve our communities.
If you live near the Tapestry at Granville apartment complex in Prescott Valley, or travel up and down Glassford Hill Road, it's likely you have seen JoAnn Williams, a tanned woman with short dark hair and baseball cap.
She carries a long, pointed metal "grabber" she uses to pick up discarded cigarette butts, stray rocks, plastic bags and any other litter she finds. She always has a supply of blue doggie poop bags, too.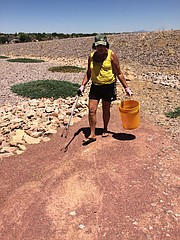 If you live in the Tapestry at Granville, it's likely you know JoAnn, 64, and her husband, Fred, 67, because they make it their business to know their neighbors, at the ready to offer a helping hand. The retired couple who live in a second-floor apartment in the apartment section off Santa Fe Loop Road are the unofficial eyes and ears of the complex.
A new neighbor arrives and JoAnn brings over a pie or some homemade banana bread. A young couple struggles to maneuver a couch into the new apartment — Fred comes to the rescue. An elderly neighbor needs someone to hang some pictures or install a ceiling fan — Fred brings his level and good humor to get the job done.
Offer to give them some cash for their trouble and they're insulted. They do this because they count themselves blessed, and reaching out to others is a gift to themselves as much as to those they benefit. JoAnn is retired from 24 years as a special education teaching assistant and Fred is retired from 36 years as a factory leader with General Electric. The couple moved to Arizona from Granville, New York.
The couple's benevolence has caught some folks off guard – they simply don't believe anyone would reach out without expecting something in return.
Fred explains his wife is the eldest of 10 siblings, so she is used to having lots of folks at the ready to pitch in for whatever might need to be done. Not everyone has such resources, and so she feels compelled to be their pseudo family, he said.
"She wears her heart on her sleeve," Fred said of his wife who attributes her determination to savoring each day to surviving a bout with an aggressive form of breast cancer.
JoAnn considers her cleaning up the sidewalks, parking lot and roadside as daily exercise. Parents of two adult daughters, Melissa and Jaime, the Williams keep the area outside their apartment attractive with plants, patio tables and chairs and other suitable decorations.
"I just love being outside and walking, and so why not be busy while you're walking," JoAnn said as she uses one of the six grabbers she has purchased over the last four years to snag a stray cigarette butt.
She and Fred keep a pair of walkie talkies on each other at all times so they can stay in touch. If on her walks, JoAnn finds someone who needs something repaired or lifted, she radios her husband to bring his tool box. If a neighbor needs someone to bake their chicken, as one elderly gentleman did, JoAnn is an eager volunteer.
JoAnn is the chatty, admittedly bossy, one of the pair; Fred is the quiet fixer and muscle of the pair married for 44 years.
"I don't mean to be bossy, but I know what needs to be done," JoAnn said.
Neighbor Laura Wagner said she cannot find enough words to describe this couple's generosity to everybody.
"I've never met anyone who cares so much about the environment, and about their neighbors," said Wagner, who has lived in the complex for over six years.
"I think we've made a difference down here," JoAnn said. "People say they always see a smile on my face, and I say, "Yes, because I'm happy."
Her husband then quickly interjects.
"And when she's happy, I'm happy."
More like this story
SUBMIT FEEDBACK
Click Below to:
This Week's Circulars
To view money-saving ads...