Man shot in stomach in broad daylight; 3 suspects arrested

By
Max Efrein
|
mefrein
Originally Published: June 13, 2018 6:05 a.m.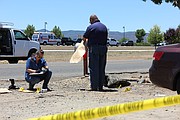 Jessica Holgate was opening up the Jackson Hewitt along Frontage Road in Castle Canyon Mesa at about 7:45 a.m. Tuesday, June 12, when she heard a distinctive pop.
"I heard the shot," Holgate said.
She came to her window to see what it was, and saw a man walking toward the business's door bleeding. Her first reaction was to lock the door, but then realized he needed help.
"He kept walking and I was like 'He sounds seriously hurt,' so I called 911, got on the phone with them, got out there and helped him as much as I could," she said.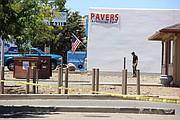 The man appeared to have been shot once in the stomach, she said. When emergency personnel responded to the scene, the man was transported to the Yavapai Regional Medical Center in Prescott Valley before being helicoptered to a Phoenix area hospital.
Owners of businesses adjacent to Jackson Hewitt were able to provide police with some security footage. From what Holgate heard from speaking with the neighboring businesses, the footage does not capture the actual shooting, but does show a white car drive by at the time the shooting took place. Holgate and her neighbors believe the shot came from someone in the white car.
"I hope they get these guys either coming or going (in the footage)," Holgate said.
Because the shooting took place just on the edge of Castle Canyon Mesa — a pocket of Yavapai County land in the Prescott Valley area — the Yavapai County Sheriff's Office (YCSO) is handling the investigation. To collect evidence, they had about a block of Frontage Road closed off for much of the day.
During a follow-up search, the suspected vehicle, a white 2001 Pontiac, was found unoccupied near the Prescott Valley Civic Center, according to a YCSO news release. The car has been impounded as evidence.
Detectives believed three suspects to be involved in the shooting: Troy Thomas Mobley, 30, from Phoenix; Skyler Lee Beveridge, 21, from Prescott Valley; and Zachary Bowling, 22, from Mayer.
ARRESTS
Tuesday afternoon, Beveridge was found in a Prescott Valley home and arrested without incident, YCSO said.
Just after 5 p.m. Tuesday, deputies discovered that Mobley had been shot during a confrontation with someone in a Spring Valley home on Meadow Lane, YCSO said.
He was transported to a Phoenix area hospital, where YCSO met him to check on his status and interview him, if possible.

Bowling was arrested about 8 p.m. Tuesday after authorities received a tip about a stolen vehicle tied to the incident.
The vehicle, a green Toyota Tundra, was located in the 5700 block of Highway 69 in Poland Junction. Deputies arrived on scene, recovered the vehicle and found Bowling.
He was arrested and booked into Camp Verde Detention Center, YCSO said.
If anyone has information about the suspects, vehicles mentioned, or the crime itself, they are encouraged to call 911.
The motive for the shooting has not been disclosed. But the incident did surprise Holgate and her neighbors. A shooting in such a public area at such an active time of the day is not commonplace in the Quad-city area.
"This just doesn't happen here," Holgate said. "I'm not used to hearing gun shots, except for maybe on 4th of July."
Related Stories
More like this story
SUBMIT FEEDBACK
Click Below to: