Prescott Valley area shooting suspect shot, killed in fight
Yavapai County Sheriff's Office investigating both shootings
Originally Published: June 13, 2018 2:34 p.m.
Updated as of Thursday, June 14, 2018 6:05 AM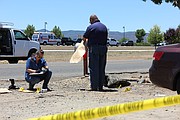 One of three suspects allegedly involved in a shooting that took place in the Prescott Valley area early Tuesday morning, June 12, has died, according to a Yavapai County Sheriff's Office (YCSO) news release.
The late suspect, Troy Mobley, 30, from Phoenix, had been shot during a separate confrontation in a Spring Valley home Tuesday afternoon. He was transported to a Phoenix area hospital, where he died later that night, YCSO said. Detectives with YCSO are investigating the shooting. So far, no arrests have been made and detectives are considering a self-defense factor as part of the review.
The original shooting, which took place along Frontage Road in the Prescott Valley area at about 7:45 a.m. Tuesday, June, 12, involved a drug deal between the three suspects and the man who was shot, YCSO said.
With Mobley were Skyler Lee Beveridge, 21, from Prescott Valley, and Zachary Bowling, 22, from Mayer. The name of the man who was shot (the victim) has not been released.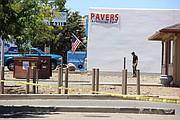 Detectives with YCSO were told that all four were seated inside a white sedan when a confrontation ensued and Mobley shot the victim in the abdomen. The victim's necklace was then stolen before he was pushed out of the car and the suspects drove away.
The victim was helicoptered to a Phoenix area hospital with serious, but non-life threatening injuries.
After leaving the scene of the crime, the suspects stopped in the parking lot of the Prescott Valley Civic Center and called a friend to give them a ride so they could leave the white sedan behind, YCSO said. Their friend arrived with his green Toyota Tundra truck and only Mobley left in the truck with its owner. The pair stopped at the Blue Hills Market off Highway 69 in Dewey, and the truck owner went inside the market, at which time Mobley drove away. The truck owner, who claimed no knowledge of the shooting involving Mobley, immediately reported his truck stolen.
Beveridge was arrested in Prescott Valley mid-day Tuesday and booked into the Yavapai County jail in Camp Verde on charges of robbery, assault and hindering prosecution. Bond has not been set.
Bowling was arrested at about 8 p.m. Tuesday after the stolen vehicle was spotted in Poland Junction. He is booked on charges including assault with a weapon, kidnapping and robbery. Bond has not been set.
Detectives continue to investigate all aspects of both shootings and the actions of each suspect pending case filing with the Yavapai County Attorney's Office.
"The Sheriff's Office would again like to thank the public for numerous calls received throughout the day regarding the suspects and their potential whereabouts," YCSO spokesperson Dwight D'Evelyn said.
Related Stories
More like this story
SUBMIT FEEDBACK
Click Below to:
This Week's Circulars
To view money-saving ads...