Lakes at lowest levels in 10 years
Prescott's 2018 precipitation is driest on record, National Weather Service says

By
Cindy Barks
|
Cindy_Barks
Originally Published: June 13, 2018 6:02 a.m.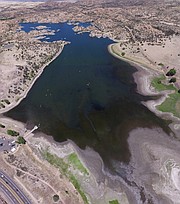 Remember last year when Willow and Watson lakes were overflowing for weeks?
Well, it turns out that the water-rich months of early 2017 were a prelude to drought-stricken 2018, which is being termed the driest start to a "water year" in more than 100 years.
In a dramatic turnabout, precipitation recorded at Prescott's Sundog weather station dropped from 13.38 inches last year to 2.28 inches this year.
National Weather Service Forecaster Justin Johndrow reported this week that rain levels at the Sundog station for this "water year" (starting in October of the previous year and running through June 10) "ranks as the driest one" on record since 1898.
The rainfall at Prescott's airport weather station was even lower. Johndrow reported 1.81 inches of rain there, to date, which, he said, "ranks as the number-one driest as well." Last year, the typically drier airport area recorded 9.32 inches of rain by this point in the year.
Prior to the extremes of 2017 and 2018, previous years were more typical, Johndrow said. During the first half of 2013, for instance, 4.88 inches of rain was recorded by early June, while 5.64 inches had fallen by June 10, 2014. In 2008, the Sundog station had recorded rainfall in the 7- to 8-inch range during the same months.
LOWEST SINCE 2007
This year's low rainfall, in turn, has caused the levels of Prescott's two creek-fed lakes in the Granite Dells area to plummet as well.
Prescott Utilities Manager Eric Bay reported Tuesday, June 12, that Watson Lake is now 10.72 feet below the dam's spillway, while Willow Lake is 8.6 feet below spill.
Bay says city records show that this year's level for Watson Lake is the lowest in a decade and is "mirroring the levels in 2007, also a dry year." Willow Lake, although also down this year, has been lower at times in the past decade, he said.
This year's levels compare unfavorably with early 2017, when winter rain and snow storms filled both lakes to overflowing for weeks — Willow for the first time in years.
The wet year allowed the city to withdraw several thousand acre feet of water from the lakes to put toward recharge of the aquifer.
Prescott Public Works Director Craig Dotseth reported in October 2017 that the city had reached its maximum allowed recharge level for the first time that year, recharging 3,861 acre feet of water.
The recharge withdrawals were halted in mid-September 2017 when the limit was reached, Dotseth said at the time.
Despite the withdrawals, Dotseth said lake levels remained fairly healthy last fall — at 6.11 feet below the spillway for Watson, and 5.2 feet below the spillway for Willow.
Bay said this week that the city has made no further withdrawals from the lakes since October 2017. And, because of the continued low lake levels, he said, "It is possible we won't recharge at all this year."
When the City of Prescott bought Watson and Willow Lakes from the Chino Valley Irrigation District in 1998, it began releasing water from the lakes to supplement the amount being recharged into the aquifer at its airport-area recharge field. The recharged water makes up a part of the city's alternative-water portfolio.
CHALLENGING RECREATION
Noting that the high precipitation of 2017 was a bit of anomaly, Prescott Recreation Services Director Joe Baynes said, "We were fortunate we got the lakes to those levels."
While recreation opportunities flourished during the high-level months, Baynes acknowledges that this year's low levels make water activities more challenging.
"Launching kayaks may be a little more difficult this year, but people are still enjoying it," Baynes said.
Because of the low levels, a number of the scenic coves on Watson Lake are currently not navigable, he said.
"But we still have 160 acres of lake at Watson (for kayaking and boating)," Baynes added.
The levels at both lakes are currently "teetering on the level of conservation pool," Bay said, referring to the minimum level the city strives to maintain for recreation.
That level is 9.5 feet below spill for Watson, and 6.5 feet below spill for Willow Lake.
More like this story
SUBMIT FEEDBACK
Click Below to: