Couple detained in case of missing $170,000 lost at Kingman Walmart
Originally Published: June 13, 2018 6 a.m.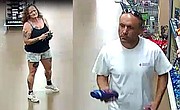 KINGMAN – Police detectives descended on a home in the 2100 block of East Snavely Avenue in Kingman, Arizona and took two people into custody Tuesday afternoon for questioning over $170,000 allegedly left in a suitcase on the bottom of a shopping cart last week at Walmart.
According to Kingman Police Department Deputy Chief Rusty Cooper the couple had not been arrested or booked into Mohave County jail.
"We've identified them as the people in the photos," Cooper said in reference to video surveillance from Walmart of two people of interest.
Detectives are continuing with their investigation, tracking leads and questioning people.
A Valle Vista woman reported leaving the suitcase full of cash at Walmart on June 5. She took the suitcase into the store with her and left it on the bottom of a shopping cart, not realizing that she'd forgotten it until she returned home, according to police reports.
One young man was seen on video checking out the suitcase, but police later determined he did not take it.
"It's craziness on the internet," Cooper said about people commenting on the incident, questioning the woman's story. "Whether we prove if it's real or not is nobody's business. It's our business."
Photo Gallery
Police search for missing $170,000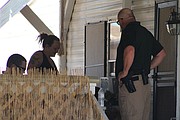 Police search a Kingman home for a suitcase containing $170,000.
A neighbor of the man and woman taken into custody recognized their photos and noticed they were driving a new Jeep, which was driven away by a Kingman police officer after their residence was searched.
Arizona state law has about 20 definitions of theft, and coming across an unusually large amount of cash isn't "finders, keepers," Cooper said.
A person commits theft if they knowingly "come into control of lost, mislaid or misdelivered property of another under circumstances providing means of inquiry as to the true owner and appropriates such property to the person's own or another's use without reasonable efforts to notify the true owner."
"We want to get her money back to her," Cooper said. "We know a significant amount of money was in that bag."
Police determined that a man wearing a blue T-shirt and shorts took the suitcase and drove away in a red four-door sedan. He was accompanied by a woman with tattoos on her arms and legs.
The woman who lost the money said she had sold her house and business in Texas, and carried the money with her because she feared someone had tried to break into her home wanting to steal it.
Related Stories
More like this story
SUBMIT FEEDBACK
Click Below to: