Unique landscape in Granite Dells to be preserved
Conservation project started a year ago

Originally Published: June 11, 2018 6:06 a.m.
The price tag is $60,000. The payoff is no development will take place on 47 acres of riparian habitat within Granite Dells. Ever.
A conservation easement is in the works through the Ecosa Institute and Central Arizona Land Trust (CALT). The easement will prohibit development on 47 acres in Granite Dells to the west of Highway 89.
Ecosa's conservancy plan for its property follows it mission, said Jessica Hernreich, Ecosa's executive director. "Conserving this property in perpetuity is our way to walk our talk," Hernreich said.
The nonprofit Ecosa Institute offers instruction in innovative ecological design with a mission to restore health to the natural environment. Of the 64-acre property, 17 acres eventually will house a state-of-the-art building for classrooms and residential living space. This portion of the land already had been heavily disturbed at the time of purchase, Hernreich said.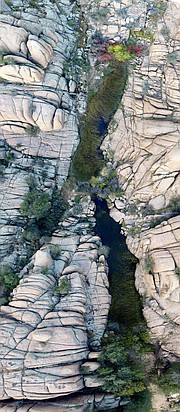 Within the conservation acreage, however, Willow Creek flows through a green riparian oasis that she said is important to save. It will remain in its natural state with granite rocks, slot canyons, Fremont cottonwoods, Arizona walnut, box elder, velvet ash and willows.
"It's not our wish to protect it for our use of nature, but for nature's intrinsic use," Hernreich said. "We have very little land around here that isn't assigned for development."
The conservation project began a year ago, and all baseline studies and paperwork have been completed. About $60,000 is necessary to place into a trust with CALT for transaction fees, future monitoring, permanent stewardship and any legal defense protection.
"CALT doesn't get any money for this," said Asa Bjorklund, Ecosa consultant.
CALT provides the service; the funds are held by the Arizona Community Foundation, Hernreich said. "When you think about it, $60,000 is not that much money to put aside into perpetuity," she agreed, adding that the Quad-City community can be a part of the effort.

Ecosa has launched a crowdfunding campaign to raise $30,000 through a Gofundme account called Forever Dells. As of Friday, June 8, seven days into the campaign, 17 people had donated between $5 and $500 for a total of $1,335.
This is a way for the community to participate and gain agency in preservation efforts, Hernreich said. Those wanting to make large donations, and grant funds, to make up the other $30,000 can go directly to Ecosa Institute to avoid the 5 percent deducted by Gofundme.
Ecosa's Forever Dells campaign is not related to the local grassroots organization, Save the Dells, although both share the mission of conserving the Dells. Both are focused on permanently protecting the undeveloped portion of the Dells and are not in competition with one another, Hernreich said.
"We don't hate development; it's necessary," she said. "For so much development coming into the Dells speaks to the beauty and majesty of them. Inversely, that's why we have to protect it."
Because board members change and so do other circumstances that could lead to selling the property for development, Ecosa felt the time was right to take this step. "In short, a conservation easement is the only way to save private land forever," Hernreich wrote in her press release.
Ecosa does not benefit from any tax break because of its nonprofit status.

"We can do this and we can do it now," Bjorklund said.
This past month, another effort kicked off to raise funds for the conservation easement through CALT of 20 acres on Coldwater Ranch in Dewey-Humboldt.
Follow Sue Tone on Twitter @ToneNotes. Reach her at stone@prescottaz.com or 928-445-3333, ext. 2043.
SUBMIT FEEDBACK
Click Below to:
More like this story