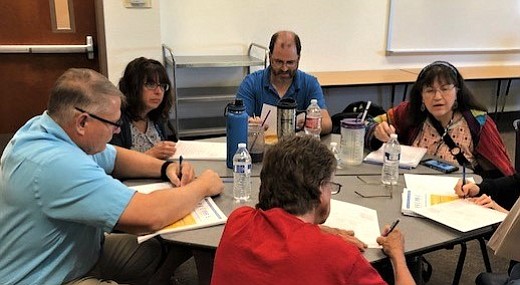 Originally Published: June 11, 2018 6:05 a.m.
The school days for students of the Humboldt Unified School District (HUSD) may have ended on May 24, but there is still plenty of things going on around our district.
Summer is generally a time for staff professional development, but this summer there are many other events going on around our schools. Mountain View Elementary is hosting summer school for grades kindergarten through fifth grade from June 4-28.
HUSD is currently offering Title One Summer School for our kindergarten through fifth grade students. This essential program is geared toward students, who are experiencing difficulty in the area of Reading. This four-week offering is targeted to remediate and enhance both reading fluency and comprehension.
We have approximately 160 students attending Summer School during the month of June, who have been identified with a specific reading need through District reading assessments and/or teacher referral. Title One Summer school focuses on keeping class sizes low and having both a certified teacher and reading aide in every classroom, allowing for more individualized time with each student, focused on his/her particular literacy need.
Director of Instruction, Cole Young states, "The objective of the program has shown to help students with the 'summer slide' regarding reading achievement lost over the vacation months. We are glad to be able to provide the resources and instruction necessary to benefit our students in promoting the enjoyment of reading, maintaining and improving reading skills, and increasing the likelihood for future reading success".
Professional development for staff took place the week of June 4t with annual SPARK training. SPARK University (Spark U) is a hands-on professional development curriculum, providing teachers at every career-stage with proven classroom leadership strategies. SPARK U empowers graduates with a set of powerful skills to renew a sense of passion, pride, and purpose. These are the "sparks" that ignite measurable improvement in the classroom, and meaningful change in their own well-being.
The curriculum is designed for teachers by teachers. It emphasizes the foundations of instruction by which all other research-based practices, programs and strategies are based. SPARK U provides the most important first step in the understanding and application of high quality instruction.
In addition to SPARK training, select school staff from each school site also had the opportunity to attend the PREPaRE training. The PREPaRE curriculum has been developed by the National Association of School Psychologists (NASP) as part of NASP's decade-long leadership in providing evidence-based resources and consultation related to school crisis prevention and response.
PREPaRE training is ideal for schools committed to improving and strengthening their school safety and crisis management plans and emergency response. The training will enhance what our school safety teams are already implementing at their own school sites and is in alignment with the HUSD Vision 2020 plan that specifically states, "research-based programs will be identified to address physical and socio-emotional safety, culture, and connectedness at each school site." PREPaRE training addresses school safety procedures but will also provide a framework for response and recovery.
As you can see there is a lot going on during the summer and a multitude of other events happening around the district to prepare for the 2018-19 school year.
For more information on the Humboldt Unified School District or any of our 10 schools, please check our website at humboldtunified.com. We also invite you to like our Facebook page for current events and updated happenings around our district.