New 'persons of interest' photos released in missing Walmart suitcase with $170,000
Originally Published: June 11, 2018 4:59 p.m.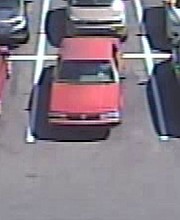 KINGMAN – Authorities say they have additional information and are looking for help in identifying a male and female subject as persons of interest related to the whereabouts of a suitcase containing $170,000 that was taken from the Kingman, Arizona Walmart last week.
Kingman Police Department says it has determined a male subject wearing a blue colored T-shirt took the case, placed it into a red 4-door sedan, and then drove way.
KPD believes a woman with tattoos was with the male.
Both the man and woman are considered person of interest.
On Tuesday, June 5, 2018, a woman reported that she went shopping at Walmart and put the case full of cash at the bottom of the cart.
The woman told police that the cash came from proceeds she received after selling her home and business in Texas, and she didn't want to leave it unattended in her car. She was afraid because she suspected someone had attempted to break into her house in Valle Vista to steal the money, which is why she brought it with her to go shopping.
When she left the store, she went to her vehicle and returned the cart to the front of the store near the bike rack. She left the suitcase behind in the bottom of the cart.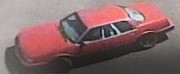 Police say she told them she realized she had forgotten the case when she returned home. She made a return trip to Walmart, couldn't find the case and called Kingman Police Department.
Video surveillance from Walmart confirms she placed the case, about the size of a carry-on piece of luggage, on the bottom rack of a shopping cart. Video also shows her returning the cart and leaving the case behind.
Police originally released a photo of a young man they called a person of interest who was seen on store surveillance exiting the store. After further review of surveillance images investigators released photos of the two new persons of interest.
Anyone with information as to the whereabouts of the suitcase, or the two subjects, are urged to contact KPD by calling 928-753-2191; report anonymously to Mohave Silent Witness by calling 928-753-1234; or report tips online by going to www.kingmanpolice.com and clicking on "Give a Tip."
Information provided by Kingman Police Department
Related Stories
More like this story
SUBMIT FEEDBACK
Click Below to: