Poisoned publisher files $18 million lawsuit against suspected culprits
Victim offers $10K reward for public's help
Originally Published: June 10, 2018 6:05 a.m.
Reward: At A Glance
• $10,000 cash reward
• Poisonings began as early as mid 2013
• Known poisons ingested: rat poison, thallium and lithium
• One male and one female suspect, third suspect being investigated
• Suspects live in the Quad-city area
• Tip line: 1-833-244-7392
Newspaper owner Joseph Soldwedel says he knows who poisoned him, and now he's offering a $10,000 reward to help in the police investigation.
In addition to a sizable cash reward, Soldwedel is so confident about the poisoners' identities, he has also filed an $18 million civil lawsuit against the alleged suspect and an accomplice, whose names are not yet being reported in Courier news accounts.
"Allow me to present you with this scenario," Soldwedel said. "You're fortunate enough to survive and recover from being poisoned at lethal levels. You know for certain the who, what, when, where, why and how of your attackers. Would you be motivated to bring them to justice?"
Soldwedel is co-owner of The Daily Courier and other news outlets in northern Arizona. According to leading toxicology and medical experts, the 66-year-old was poisoned with what could have been lethal doses of thallium and other chemicals. He continues to battle the effects of long-term heavy metal poisoning.
THALLIUM: THE POISONER'S POISON
In late 2017, Soldwedel reported the poisoning to the Prescott Police Department and the Yavapai County Attorney's Office. Investigators were given lab results Soldwedel obtained from some of the country's top toxicology physicians and forensic laboratories.
"The test findings are highly suggestive, but not confirmatory, of an intentional poisoning with an intent to kill," said Dr. Ernest P. Chiodo, one of the nation's leading experts in forensic toxicology who analyzed Soldwedel's test results. "Thallium is known by the moniker of 'inheritance powder' and 'poisoner's poison,'" Dr. Chiodo wrote in a summary report.
Thallium is an odorless, tasteless, and colorless heavy metal. After numerous cases of intentional poisoning of humans, the use of thallium in household products – such as rat poison – was banned in the United States in 1965, according to U.S. National Library of Medicine.
Dr. Hildegarde Staninger of Integrative Health Systems, LLC of Los Angeles is one of the top toxicologists in the world. In her conclusions of Soldwedel's test results Staninger told the Courier, "Many seasoned poisoners that utilize this type of thallium-based poison use low doses over time in food or drinks, and then administer an elevated fatal dose. I believe Mr. Soldwedel's food was being laced with the basis of heavy metals. Having 15 times the thallium reference level can kill you. I think he was very lucky. His will to live saved him."
Soldwedel has been receiving ongoing medical treatments called chelation therapy for heavy metal poisoning since the lethal doses were first identified last year.
MORE CASES REPORTED
Dr. Staninger has seen an increase of poisoning cases over the past few years.
"In 2016, I did 17 toxicology consultations and technical support letters for local law enforcement through The Carlson Company," Staninger said.
The Carlson Company of Westminster, Colorado, is a world-renowned testing facility that uses forensic testing of human hair and nails to determine exactly what someone has been exposed to including poison, chemical toxins and heavy metals. They serve law enforcement, attorneys, the military, medical examiners, the government, private individuals, mortuaries and crematoriums across the United States.
One such case resulted in three bodies being exhumed by the District Attorney's office of Los Angeles. That case is still under investigation.
"In 2017, I did 32 cases and six have active investigations still pending," said Staninger.
"One case concerned a young woman who was poisoned at the same time she learned she was pregnant. After the baby was born, it was determined that the infant had been poisoned in-utero by the same poisons as the mother. This case is now being investigated by the FBI.
"So far in 2018, I've done 14 cases," Staninger said. "One case was for a female client in Paris, France. The poison was found after testing a letter mailed to her (the poison was sprayed on the letter and envelope). The local government (in France) and local law enforcement have documented the testing and the report of the discovery of poison, but due to the suspected poisoner's extremely high intelligence background, it has been a very hard case for them to pursue."
The case remains under investigation.
"These types of cases are increasing in number because patients are learning where to get tested," Staninger continued.
When patients are not seeing results by going to the doctor, some turn to alternative medicine and forensic testing.
"The general healthcare community of physicians and other support staff are clueless on what to do in these cases, because they think the level of the toxin and resulting symptoms have to be at a specific level," said Staninger. "That is not the case at all. Most professionals in their medical schooling do not even have a single toxicology course or a nutritional program."
KINDRED SPIRITS
Soldwedel has connected with other victims of poisoning over the past several months.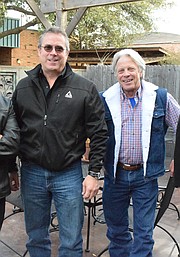 One such person he is in touch with is Adam Bishop, who is a viticulturist, wine maker, optician and property developer in Childress, Texas. Soldwedel and Bishop are both patients of Dr. Staninger and she suggested the two men get acquainted.
Bishop is undergoing chelation therapy for heavy metal poisoning, the same treatments Soldwedel has been receiving.
"We are pioneers in this treatment," Bishop said. "We are guinea pigs and each week brings something new."
Soldwedel recently traveled to Childress this spring to meet Bishop.
"It was uplifting meeting Adam," Soldwedel said. "It's pretty incredible to meet other people out there going through this. It's been therapeutic in a way."
The poison Bishop was given was heaviest in barium.
"His barium was off the charts," said Dr. Amaro, who administers the chelation therapy to Bishop at Amaro Integrative Medicine in Amarillo, Texas. "He was in bad shape when he came in. I was scared for him and he was willing to move forward and say, 'I'm ready to do whatever it takes.'"
Like Soldwedel's case, Amaro said there is no possible way Bishop was poisoned through his work at his vineyard, his winery or at his eye clinic.
"Adam's profession doesn't work with barium. There's only one way to get it, in my opinion, and that's somebody giving it to you. You don't accidentally ingest barium."
Learning about other poisoning cases only strengthens Soldwedel's resolve to bring his poisoner(s) to justice and educate the public about this hidden threat.
"While I hope to obtain critical and useful information relating to my poisoning, equally I wish to inform and educate local citizenry that a poisoner is operating locally," Soldwedel said. "It's a real problem. There's probably a one in 1,000 chance my reward offer will generate meaningful police action, but at least they might take notice. It also might give the poisoner(s) cause for concern."
Another victim, Ashley Benefield, of Florida and formerly South Carolina, was poisoned while she was pregnant. Both she and her 10-week-old baby are suffering from heavy metal poisoning similar to that of Bishop and Soldwedel.
"I have some lingering issues which I'm still dealing with," Benefield said. "Dr. Staninger has us on natural detoxifications. Both the baby and I have intestinal issues along with several other health issues."
Neither Benefield nor her baby are able to undergo chelation therapy at this time due to the invasive nature of the IV treatments and the fact she is nursing.
The baby was born with liver difficulties as well. She is undergoing bi-weekly testing.
"Doctors are concerned she could have mental difficulties, but it's too early to tell," Benefield said. "We will continue to detoxify and pray over her just as we have been doing."
Like Soldwedel, Bishop and other poisoning victims, she knew she was ill, but standard medical care could not pinpoint the reason.
"I went to doctors over and over again. I knew this was not normal," Benefield said. "It's something they don't look for when making a diagnosis and a blood test won't reveal it more than 48 hours after a poisoning. In the end I thought, 'it's better to be safe than sorry.'"
She too used The Carlson Company for forensic testing.
"I felt funny having the forensic testing done through The Carlson Company, but thank God I did," Benefield said. "Since it's not very common and people aren't hearing about it, I think people have been doing this (poisoning) and getting away with it."
Benefield's case is under investigation by local law enforcement as well as the FBI.
JUSTICE & PUBLIC SAFETY
"This is still an ongoing and open investigation," said Lt. Jon Brambila of the Prescott Police Department regarding Soldwedel's case.
Investigators from PPD have taken their own hair and fingernail samples from Soldwedel to obtain independent lab results.
"Any case we get where something like this has been alleged is very challenging because it's difficult to prove that a crime was committed and that the crime was committed within our jurisdiction," Brambila said. "We are waiting to hear back from the county attorney's office about what direction they want us to go as far as the investigation."
But with the investigation now ongoing for nearly eight months Soldwedel felt compelled to lubricate the wheels of justice.
"Let's say you know there is a potential poisoner living in your town who tried to kill you, and you have my resources at your disposal," Soldwedel poses the question. "Wouldn't you be obligated to the community to employ those resources?"
In statements to police, Soldwedel has provided the names of the key suspect and an accomplice. He has provided what he believes is a clear motive, how the poison was administered and has funded his own independent investigation to support his claims.
"I refuse to stand silently on the sidelines and willingly allow my attackers to poison more victims, which could be you, a loved one or a friend," Soldwedel said. "My attackers are disturbed people."
But Soldwedel also recognizes the challenges law enforcement can face when it comes to gathering enough evidence to prosecute a poisoning case of this nature.
"While I don't like it, I've accepted a reasonable theory why law enforcers across the United States shy away from prosecuting cases like mine," Soldwedel said.
To this end, he says the reward and the $18 million lawsuit are intended to shore up public safety and exact justice.
"I'll empty my quiver of arrows before I stop," Soldwedel said. "I'm 66. Most of my life is in my rearview mirror. For me to live with myself in my remaining time and to believe in my heart I've done the right thing here, I have to press forward."
He explained that being the victim and fortunate enough to have survived the poisonings, in his mind mitigation does not exist. "Just because they failed to murder me does not make them anything less than killers — and the most heinous of killers due to the degree and length of premeditation and administering of poisons involved," Soldwedel said.
"If anyone has information about this case, we'd request that they contact us so we can make that information part of our investigation," Lt. Brambila said.
The public can call PPD at 928-777-1988, or the reward message line set up by the victim at 1-833-244-7392. If your tip leads to the arrest and indictment of the suspects you will be eligible for the $10,000 reward.
---
Reporter Chris Blackburn of The Red River Sun in Childress, Texas, contributed to this story.
Related Stories
More like this story
SUBMIT FEEDBACK
Click Below to: