Need2Know: Watters Garden Center to host Frontier Rotary's Grapes-4-Grades; Rickety Cricket opening delayed; Dutch Bros. Coffee closer
Originally Published: June 10, 2018 6 a.m.
Editor's Note — To submit items for the Courier's Need2Know, email twieds@prescottaz.com; for legal advertisements, email tbryant@prescottaz.com.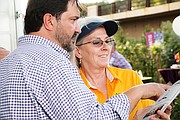 Watters Garden Center to host Prescott Frontier Rotary's 13th Grapes-4-Grades
Watters Garden Center, 1815 W. Iron Springs Road, will once again host a garden party for the Prescott Frontier Rotary's 13th Grapes-4-Grades benefit, with all proceeds going directly to Rotary causes and the Prescott Unified School District's 21st Century Grant Summer Program.
Grapes-4-Grades received an outpouring of support in 2017, raising more than $52,000, organizers said.
The event features the Steve Annibale Jazz Trio, 12 different wines and artisan beers available for tasting, and hors d'oeuvre catered by El Gato Azul. There will be a live auction and raffle.
The event is from 5 to 8 p.m. Sunday, June 24. Tickets are $50 and can be purchased at Watters Garden Center, Prescott True Value, and Olsen's Grain.
Rickety Cricket delayed a bit in opening
Kingman's Rickety Cricket Brewing's expansion by moving into the former Far From Folsom space at 214 S. Montezuma has been delayed.
The general manager of the Kingman location, Ursula Hollon, said: "I cannot give you a certain date (for opening) right now. They are working hard, they're putting in pizza ovens, they're doing all kinds of stuff."
She said the plan is to be open "by the end of the month." Stay tuned.
Dutch Bros. Coffee one step closer to opening
"The walls are up," reports Prescott Economic Development Coordinator Wendy Bridges, on the Prescott location for Dutch Bros. Coffee.
The store, at the corner of Willow Creek Road and Willow Lake Road, is expected to open in August, according to developer Ken Mabarak.
SUBMIT FEEDBACK
Click Below to: