Home lost in fire near Walker; crews contain to property
Originally Published: June 10, 2018 6:01 a.m.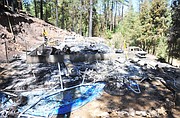 A house fire on Treehouse Court in Walker claimed a cabin Friday night but all residents escaped safely, said Dwight D'Evelyn, spokesman for the Yavapai County Sheriff's Office.
The blaze, first reported at 9:30 p.m. Friday, June 8, fully engulfed a cabin and a propane tank blew up, he added.
"It appears fire personnel have it contained to the property — but this is tentative at the moment," D'Evelyn stated in an email at about 10:30 p.m.
About an hour later, D'Evelyn reported that fire command had the blaze essentially contained to the property. Further attack was pending APS crew arrival to shut power off.
Crews monitored the site throughout the night; information on the cause is not available, he added.
Officials said the fire, dubbed the Treehouse Fire, burned less than one acre on Treehouse Court, which is just off Bluff Road and East Walker Road.
Law enforcement radio traffic at 9:40 p.m. called for the Forest Service to respond, and the Groom Creek Fire Department was en route. Concern was that the fire could spread to nearby trees.
The Treehouse Fire was near the May 16 Bluff Fire, which claimed one home, spread across 2 acres, and resulted in temporary evacuations of area residents.
Yavapai County remains in Stage II Fire Restrictions, which ban all fires, smoking outside, and use of firearms and equipment that can cause sparks.
Click here for the latest on the restrictions.
More like this story
SUBMIT FEEDBACK
Click Below to: