Free dog show(offs) take to the Civic Center on Saturday
WOOFstock provides fun, demos, lots of contests for dogs and owners
Tie-dye apparel and rock music aren't required at the seventh annual WOOFstock and Adopt-a-thon event taking place from 10 a.m. to 3 p.m. Saturday, June 9, at the Prescott Valley Civic Center, 7501 E. Civic Circle, between the library and the police station.
However, there will be a Best Psychedelic Costume Contest later in the day at 1:30 p.m. that may appeal to people of a certain historical era.
This dog and dog lovers' event will highlight the talent and looks of canines and their owners.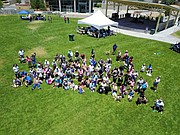 An invocation and blessing of pets starts off the event at 9:45 a.m. followed by a parade of Adoptable Dogs at 10 a.m. Lew Rees, the extroverted former PV Chamber of Commerce CEO, will emcee the day's event that includes 15 rescue organizations and other non-profits such as Yavapai Food Bank, Red Cross, and Animal Disaster Services, said Cherie Dreves, publisher of The Prescott Dog magazine.
Dr. Gordon Vergason, owner of Premiere Pet Hospital, will man an Ask a Vet booth. For $2 per question, attendees can ask a question and get an answer. The fees benefit Prescott Valley Police K9 officers to help run the program.
The contests always provide good photo opportunities with costumes, tricks, and picking out which canines look like their owners. Entry fees are $10 with trophies and cash prizes to the top three winners.
Tricks and Talents with Rescue Me adoptable dogs takes place at 10:30 a.m., as does a demonstration of Schulzhund Style Protection by Farbenholt Dog Trainers. Farbenholt also will speak on Obedience and How to Get There at 1:30 p.m.
A Best Trick and Talent contest for "general public" dogs takes place at 2 p.m. and Best Looking Dog for these dogs is the final contest of the event at 2:30 p.m. Rescue Me adoptable dogs have their Best Looking Dog contest at 1 p.m.
Two look-alike contests take place next, with the Pet/Owner Look-Alike Contest first at 11 a.m. and the Toto (in keeping with the Town of Prescott Valley's 40th Anniversary Wizard of Oz theme) Look-Alike Contest at 11:30.
All dogs and owners will congregate together at noon for a group photo taken overhead by a drone. Food trucks will be available with10 percent of proceeds going to N.O.A.H. Foundation to support area rescues.
Debbie Lipley of Pawstively Awesome Dog Training will conduct an open obedience class for any dog and owner at 12:15 p.m. At 1:30 p.m. dogs and owners will show off their Best Psychedelic Costume for yet another contest.
New this year is a contest that awards the winner with a $300 photoshoot prize to the best Selfie in the Park photo. Selfies must be emailed to info@prescottdog.com by 11:59 p.m. on Sunday, June 10. Photos should be large/high resolution for print quality because they will appear in the July/August issue of The Prescott Dog Magazine.
Happening all day long are dog adoptions, canine athletic demos, canine good citizenship certification, contests, prizes, food and entertainment. Socialized dogs are welcome on 4-ft. leashes; please clean up after your dog. Volunteers for every phase of the event are always welcomed.
For more information, call 928-445-4811 or visit prescottdog.com.
More like this story
SUBMIT FEEDBACK
Click Below to: