One family's experience during the Viewpoint Fire
Fast-moving fire, evacuation notice 'really makes you think'

Originally Published: June 8, 2018 6:01 a.m.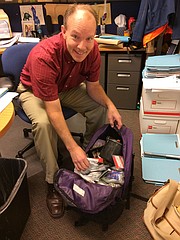 Ryan Judy was out of state when his wife, Carrine, texted him Friday, May 11, to say, "There's some smoke, but I'm not too concerned about it." Less than an hour later, the Code Red alert notified Carrine that she and her three boys must evacuate their Viewpoint neighborhood.
They were ready.
Every member of the family has their own "bug out" backpacks with food, water, a change of clothing, and other items that will sustain them for 72 hours, Ryan Judy, Prescott Valley deputy town manager, said. His pack also holds a tent, candy and games.
In addition, he has an exterior hard drive with family photos, and a folder containing copies of driver's licenses, and original birth certificates, passports, and other documentation that would be difficult to recreate.
Carrine Judy and the boys, ages 7, 9 and 11, placed all these things in the car – just in case. Then, on instructions from her husband, she put an oscillating sprinkler on the 500-gallon propane tank on the west side of the property about 30 feet from the house, and left a hose running nearby.
Ryan said the property already was "firewised" when they purchased it. The front side of the house had gravel, "a good buffer," and the east and north sides had grass. To the west, the side with the propane tank, grew weeds, which he kept cut.
EVACUATION
At 11:52 a.m., the Code Red alert sounded to evacuate Viewpoint.
"From the time she texted me, it was 43 minutes," Ryan said, adding that a friend had told Carrine about a grass fire 30 minutes earlier than her first text to him.
Carrine had looked out the window after the phone call. "I could see it. I didn't anticipate evacuation. I thought, 'Oh, there's a fire. It will get taken care of.' But I had my sons put their shoes on," she said. They also had the car loaded.
When the evacuation alert came, they gathered up some of the animals – a dog, a cat and a bunny rabbit. A second cat hid under the bed and wouldn't come out.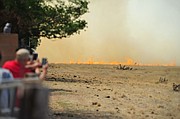 "We left her; the boys were pretty upset. Obviously our safety was more important. We left all our chickens," Carrine said.
Meanwhile Ryan and three daughters are returning to Prescott Valley, knowing the rest of the family is safe, but not knowing what will happen to their home.
"It really makes you think. I'm driving back from St. George, Utah, with white knuckles. It was the hardest thing for me," Ryan said.
The fire was moving in from the south, so Carrine drove north where she knew of a shortcut across private land north of Park View Drive, an emergency access road, that would take her and the children to friends in Antelope Meadows.
"I was watching the fire from the window. From my perspective at the time, I could tell it was at the south end of Poquito Valley. I could see structures going up, I knew they were houses because of the black smoke," she said.
Then she heard a place north of their property was on fire. "Until then, I thought it was just south of our house. That's when I realized I didn't know if our house would be standing."
There they stayed at the friend's house until emergency responders evacuated Antelope Meadows at 2:01 p.m. They drove to other friends in Pronghorn Ranch until receiving notice that Viewpoint would open back up to residents at 6:30 p.m.
"I was grateful to be able to have a house to come home to that night. The cat was fine and chickens were fine. A couple had burnt feathers, but they were alive," Carrine said.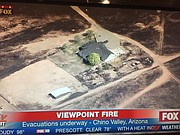 AFTERMATH
The fire destroyed a shade structure in the horse corral. When Ryan reached his home soon after Carrine, he saw some fence posts still smoldering, embers and hot spots that would flame up now and then.
What really distressed him was something he never foresaw.
"I had a straw bale on the cement driveway, didn't think anything about it," Ryan said. "Some co-workers saw the bale on fire and used a hose to put it out." The bale was two feet from the house.
The Judys received calls from friends and neighbors in the community all day long, all offering help and a place to stay.
"It was pretty incredible being on the receiving end, and it brought comfort," Ryan said.
He said many people living in the area were less impacted by the fire than others who didn't take fuel mitigation measures on their property. According to the Arizona Department of Forestry and Fire Management, the fire burned two homes in the Poquito Valley area, 12 other structures, four RV travel trailers and six vehicles.
The Judys said they learned a couple things from their experience.
"Be ready to go at a moment's notice," Ryan said.
Carrine said they would get more animal carriers instead of relying on cardboard boxes. She also would like to put in place and practice an action plan for what each family member is responsible for doing.
"In a stressful situation, you don't have time to think about it, you just have to move," she said.
Knowing what escape routes are available in all directions is something else they need to know ahead of time, she added. Some private property owners offer access through their property to neighboring roads, others block access.
"We don't have a lot of options out here. There needs to be a better system for evacuations and medical emergency vehicles."
More like this story
SUBMIT FEEDBACK
Click Below to: