Originally Published: June 8, 2018 5:58 a.m.
In any artistic composition, balancing the various elements in a pleasing arrangement is a must; so too, in composing a garden.
Alta Vista Garden Club's June Garden of the Month gardeners, Renie and Ed Collier, can attest to that. Their property slopes away from the street grade, so the land presented challenges, but those challenges were resolved in a beautiful, balanced composition.
Terracing seemed appropriate, so on the highest tier, roses — Double Delight, Chrysler Imperial, Mr. Lincoln, and Peace — were planted to bloom as a frame for the front yard.
Coreopsis and columbine pop up on the second tier, and soon Echinacea and Mexican hat will join the party.
The third tier features neutral gravel, river rock and "The Emerald," as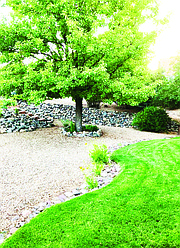 Renie calls it — a verdant stretch, hugging the front steps and colonnade of their home at 1653 Cedarwood Drive in Prescott.
"This is Ed's part of the garden," Renie said. "It's as green as an emerald, and it certainly costs as much."
She faced the challenge of color and water use in the rest of the garden. Near the edge of the property, she planted iris with white and purple markings in long beds. In a hidden corner grow Pallida irises, a variety with gold variegated foliage and purple blooms, redolent of grape Kool-Aid.
Two mature trees help frame the front of the house. Nearest the street grows an Aristocrat pear tree, beautiful in white blossoms in the spring and striking in the fall, when the leaves turn a bright mix of scarlet and amber. This tree was planted to commemorate the loss of their daughter, Amber, many years ago, they said.
Close to the pear tree is a forsythia and then a pink blossom crab apple tree, sheltering a bird bath and columbines.
From just the right spot on the street, the entrance gate to the back yard can be seen.
Standing guard is a fat, ceramic pot, barely containing the giant pink-and-yellow snapdragons. Pot and flowers together reach a height of nearly five feet. A trellis — crowded with light lavender clematis and golden columbine — provide the balance along the opposite house wall.
Just inside the gate are the greeters, pink and magenta geraniums.
The rest of the back yard was developed in response to the whims of wildlife. Potted plants, as well as grounded ones, foil the rabbits, ground squirrels, raccoons and deer while climbing roses look on. Renie is not happy when the wilds dine on her plants, but she realizes that all of life is a balancing act, and so she keeps on gardening for the fun, beauty and tranquility it gives her.
Provided by the Alta Vista Garden Club.
Information provided by Alta Vista Garden Club
More like this story
SUBMIT FEEDBACK
Click Below to:
This Week's Circulars
To view money-saving ads...