Man killed by federal officer tested negative for drugs
Originally Published: June 7, 2018 12:04 p.m.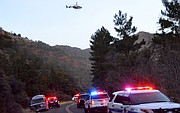 FLAGSTAFF, Ariz. (AP) — A Kansas man fatally shot by a federal officer as he walked naked and bloody along an Arizona highway tested negative for a range of illegal and prescription drugs and had a blood alcohol level within the legal limit, according to toxicology results.
Tyler Miller, 51, was shot twice in the abdomen by a U.S. Forest Service law enforcement officer in early January, the Arizona Daily Sun reported .
Miller, of Hutchinson, Kansas, was on his way to a spiritual retreat in Sedona. He had crashed his pickup truck and began walking along Highway 89A in Oak Creek Canyon, about 100 miles (160 kilometers) north of Phoenix, according to authorities.
The report from the Yavapai County Medical Examiner's Office found that Miller tested positive only for nicotine, analgesics — found in common anti-inflammatory medications — and naloxone, which is used to reverse opioid drug overdoses. The report noted that the positive result for naloxone was unconfirmed because it wasn't verified by a quantitative analysis.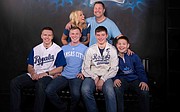 Miller had a blood alcohol level of 0.05 percent, below the state's legal limit for driving, according to the report.
Documents from the Coconino County Sheriff's Office indicate Miller had gradually shed his clothing on the roadway after emerging through the broken front windshield of his vehicle. A witness told authorities that Miller had been throwing rocks at cars traveling on the highway after the crash.
Officer Krista Kuhns was the first to respond and used a stun gun on Miller before shooting him. The medical examiner found two prongs from a stun gun in Miller's abdominal area.
The FBI has been investigating the shooting and has declined to release additional information, including Kuhns' account or statements.
Related Stories
More like this story
SUBMIT FEEDBACK
Click Below to:
This Week's Circulars
To view money-saving ads...