Heritage soccer clubs claim middle school titles
Local Sports in Brief

Originally Published: June 7, 2018 6:05 a.m.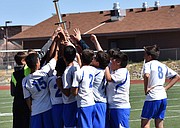 The Heritage Middle School boys and girls soccer teams ended their season by hoisting two championship trophies April 27 in Chino Valley. The boys finished the 2018 season a perfect 12-0 after defeating Camp Verde 5-1 in the championship match. Coached by Allen Foster, 14 of the 18 players on the roster scored at some point during the season, leading to an undefeated campaign. As for the girls, coaches Hillary Palmer and Rachel Davis led Heritage to an 11-0 season, defeating Humboldt 4-1 in the title match April 27.
Badger Baseball Summer Camp set for June 11-14
The annual Badger Baseball Summer Camp is scheduled to take place Monday through Thursday, June 11 to 14, in Prescott. All four days of instruction will take place from 8 to 11 a.m. on Prescott High School's main baseball field, and will be led Prescott head coach Kent Winslow, his staff and select varsity players. The camp is for players ages 8 to 14 and is $75 per player for all four days. Camp fee includes instruction, insurance and a T-shirt. Basic baseball instruction will be provided including hitting, fielding and sliding. To register, contact Scott Lyon at 928-925-6052, or email scottlyon@lyonengineering.com. Players may also register the morning camp begins at 7:30 a.m. June 11.
Postseason awards continue to pour in for Yavapai College softball
The National Fastpitch Coaches Association (NFCA) announced its All-West Region Team on Tuesday, selecting Yavapai College softball players Jaydee Boursaw, Makayla Guerra and Jaya Allen. Boursaw and Guerra were first-team award winners, while Allen was second team. In addition, the NFCA announced Wednesday that Boursaw was selected as a first-team All-American, while Guerra was third team. Boursaw was also named NFCA Catcher of the Year after she hit .444 with 28 home runs and 84 RBIs to go along with her .944 slugging percentage in 2018.
3rd annual state cornhole championships set for June 15-16
The third annual Arizona State Cornhole Championships are scheduled to take place Friday and Saturday, June 15 and 16, in Phoenix. The championships are open to the public for all levels of competition. Ability360 Sports & Fitness in Phoenix is hosting the event, and a portion of the proceeds will go to their wheelchair basketball program. Five new divisions and 11 total events will take place at this year's state championships. More than 60 players will share $5,000 in cash and prizes, including trophies and championship jerseys. To register, visit arizonastatecornholechampionships.com. For more information, contact Todd Kisicki at 602-885-1608 or email info@kbkornholegames.com.
2nd annual NAZ Suns Basketball Camp set for July 27 in Prescott Valley
The Northern Arizona Suns are scheduled to host their second annual NAZ Suns Basketball Camp from 10:30 a.m. to 4 p.m. Friday, July 27, at the Prescott Valley Event Center. The camp includes skill training by NAZ Suns' basketball staff, two tickets to the Suns home opener, completion certificate, T-shirt and a free lunch. Players ages 7 to 17 are encouraged to register quickly as space is limited. Camp fee is $50. To register, visit nazsuns.com/kidscamp or call 928-772-7867.
See additional information about the 2nd annual NAZ Suns Basketball Camp
More like this story
SUBMIT FEEDBACK
Click Below to: