First 2018 festival film 'fun, quirky ... uplifting and unique'
Love of ukuleles adds to ticket sales

Originally Published: June 7, 2018 6:02 a.m.
This year's Prescott Film Festival (PFF) opens Friday, June 8, with a "quirky" film titled "A Boy Called Sailboat," starring J.K. Simmons, and Julian Atocani Sanchez, who plays Sailboat.
The film begins at 7 p.m. in the Performing Arts Center at Yavapai College.
Helen Stephenson, PFF founder and executive director, said she loves the film and perhaps her enthusiasm has been driving ticket sales.
"It's doing really, really well for presales," she said. "It's a marvelous, fun, quirky film that's uplifting and unique."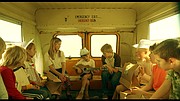 A bonus for filmgoers is that after the 7 p.m. showing, the director, Cameron Nugent, will be present to answer questions from the audience.
"The little boy who plays Sailboat is coming, too. He's going to kill it," Stephenson said with a laugh.
The film features Simmons, a slanted house, and a "little guitar" that "come together in a small town filled with charming and offbeat characters," the program notes state. "Sailboat and his ukulele are inseparable, and when his gravely ill grandmother instructs him to write a song for her, Sailboat takes on many adversities to deliver the unimaginable — the greatest song ever written."
Stephenson said her first question for the director will be, "How did you get J.K. Simmons into this independent film?"
Perhaps ticket sales for this film are doing well because of the Quad City's love of ukuleles and its many players. Prescott Ukulele Guild (PUG) posted the movie's trailer on Facebook, and members have purchased tickets.
PUG member Bill Zombeck said he watched the trailer.
"The movie seems to be charming, sensitive, and is focused on a ukulele and how it plays into the lives of many people through a very talented young boy," Bill Zombeck said. "Since I play the ukulele, the movie caught my interest."
Bill's wife, Linda, who also bought a ticket, said, "It seems to be coming from a different perspective and involves a kid playing. It just seemed intriguing."
The Zombecks, Prescott residents, have been playing and performing on the ukulele for several years. Bill said the instrument is small, easy to carry and learn, and capable of playing much more than simple tunes. Linda plays to share a common interest with Bill and because "it exercises my brain and challenges my fingers to do things they would never otherwise think of doing."
Following the opening film is the Cabaret Party, sponsored by El Gato Azul, which is included in the price of admission.
Visit prescottfilmfestival.com for a complete schedule that includes more than 50 films: feature length films paired with short films; a free outdoor movie, "Psycho," on Sunday, June 10; a free showing of 15 short films by high school and college students; a wine-tasting event, "Wines to Die For," paired with the documentary feature, "78/52: Hitchcock's Shower Scene;" a gourmet dinner on June 13 provided by BigA; and 10 free workshops including a two-day, 9 a.m. to 5 p.m., Intro to Filmmaking.
Tickets for feature-length films are $13, $7 for students/staff; a variety of passes are available.
Cost for the wine tasting and gourmet dinner events vary. All events take place at Yavapai College, 1100 E. Sheldon Street. For more information, call 928-458-7209.
More like this story
SUBMIT FEEDBACK
Click Below to: