Woman involved in Taco Bell robbery faces 52 years in prison
Halie Chavez, Verde Independent
Originally Published: June 6, 2018 2:13 p.m.
Updated as of Thursday, June 7, 2018 5:59 AM
CAMP VERDE -- The woman allegedly involved in an attempted robbery at the Cottonwood Taco Bell in January faces a maximum sentence of 52 years in prison should she choose to go to trial and is found guilty on all counts.
Tia Stevens, 36, was arrested four days after the attempted robbery. Stevens told police she assisted Zion Plotnikoff, 18, the other suspect indicted in the robbery, out of fear of him.
Plotnikoff told police Stevens offered him 40 percent of the profit from the robbery, but denied being involved and claimed the man with Stevens during the robbery was her husband.
During a Donald hearing at Yavapai Superior Court in Camp Verde Monday, Prosecuting Attorney Patti Wortman told the court Stevens was out on release after a probation violation in a 2015 aggravated assault case when the Taco Bell crime occurred.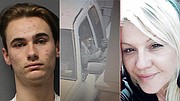 Stevens is currently facing six charges in the robbery case, including aggravated assault, unlawful flight from a pursuing law enforcement vehicle and tampering with evidence, according to court records. If Stevens were to go to trial and be found guilty on all counts, she faces a maximum of 47 years in prison.
The prior case adds an additional two-year penalty to each count.
Stevens is also charged in a second case and could face 3.75 years maximum – bringing the potential ceiling to 52 years.
The prosecution and defense also discussed the plea offer on the table.
The plea agreement would offer a maximum of 24.5 years with a stipulation Stevens must serve no less than five years.
Judge Bluff told Stevens he was not inclined to sentence her to more than 11 years based Wortman's recommendation, stating it was "reasonable." But he also stated he could make no guarantees without hearing from victims and reading a pre-sentence report.
"I can't see myself getting into the 20-year range," Bluff said.
The plea agreement has been on the table for "two to three weeks," according to Wortman. Bluff scheduled the next meeting in Stevens' case for June 25.
"You'll have to make a decision on what to do at that point," Bluff told Stevens.
Related Stories
More like this story
SUBMIT FEEDBACK
Click Below to: