Chino Valley Farmers Market heads into 11th year
New vendors with popular favorites, says market manager

Originally Published: June 6, 2018 6:01 a.m.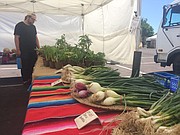 The Chino Valley Farmers Market heads into its 11th year this week with the market starting back up for the season Thursday, June 7.
Patrons to the market should expect pretty much more of the same, though there's a couple new vendors along with the popular favorites this year, said Market Manager JB Del Campo. New faces include Citrinita, a lemonade and coffee stand and Peace, Love and Baking, who are gluten free, Del Campo said.
Once again, the market is going to be at Olsen's Grain, he said. Located at 344 highway 89, it's great to be back there, Del Campo said.
"It's a great location, you can see us right from the street," he said. "It's a great partnership."
There is excitement to be selling at the Chino Valley Farmers Market, said Scott Massed of Citrinita. He and his partner have some relatives in the area, Massed said.
When the two got started up in lemonade, they wanted to figure out a way to bring it locally with locally produced goods, he said. They use honey from Honeyman and make flavors with mint form Aguiar Farms and lavender from Skull Valley, Massed said.
"We just wanted to squeeze out some local juice," he said.
Returning to the Chino Valley Farmers Market is Windswept Acres, run by engaged couple Pam Baker and Dave Harris who make fresh pickled items packed by hand as well as raise hormone and antibiotic free pork. They've got some new products this year such as some squash and marinated mushrooms, Baker said.
The bread and butter pickles are Harris' grandmother's recipe, but everything else uses recipes she created herself, she said. The desert beets are a sweet and spicy pickled beet and she also has buffalo Brussel sprouts and buffalo cauliflower, Baker said. They're always trying to come up with unique flavors, she said. One of their most popular products is a candied sweet pepper, Baker said. It's called Sunset Candy.
Harris mentioned Windswept Acres is going to have natural chickens too, making a chicken spinach and feta brat. At the Prescott Farmers Market Saturday, June 2, they had that product along with chicken chorizo, he said. They make a buffalo blue cheese chicken brat too, Harris said.
"It's like a chicken wing in a casing," he said. "They're good."
On average, the Chino Valley Farmers Market gets about 100 to 200 people every week, Del Campo said. Most of the customers are regulars from Chino Valley, he said.
"They're buying from their neighbors, because all of the vendors pretty much live out in Paulden and Chino," Del Campo said. "It's just a cool little tight knit community market which is great."
The Chino Valley Farmers Market is open Thursdays from 3 to 6 p.m. and runs through Thursday, Oct. 25.
More like this story
SUBMIT FEEDBACK
Click Below to: