Folk Arts Fair features skills of the past
Event continues Sunday

Originally Published: June 3, 2018 5:53 a.m.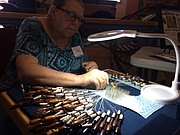 From sock making and weaving bobbin lace to panning for gold and blacksmithing, skills from the past of all types were featured at Sharlot Hall Museum's Folk Arts Fair Saturday, June 2.
New this year were Pat Regnier and Sheila Graham demonstrating sock making, all of which is kind of a lost art, Regnier said, noting she was demonstrating the toe-down technique while Graham was doing the toe-up technique. For the former, it involves knitting the sock, then doing the heel and then finishing off with the toe, she said. Toe-up involves going the other direction, Graham said. No matter what though, when they come off the machine, they're like a tube so a Kitchener Stitch is required to close the toe, Regnier said.
"That's the only sewing on these socks," she said. "They're pretty much what you see when they come off the machine."
Whether or not a person makes their socks toe-up or toe-down, it all comes back to preference, Regnier said. It's all about what works and what the person is comfortable with as well as what the machine is comfortable with, she said. The machines have personalities and quirks that the sock maker has to work with, Regnier said.
Also present was Verla Davis, who was demonstrating bobbin lace weaving — something she said she's been doing for about 20 years. She's also been coming to the Folk Arts Fair since the late 1990s, Davis said.
"I think it's something that the community really supports," she said. "We always get a good turnout and all kinds of interested people."
Furthermore, since she's been demonstrating for so long, Davis said she's seen people grow up year after year. Being able to demonstrate the craft is not only fulfilling, but addicting, she said.
Davis said she got into weaving bobbin lace through her mother and her father, who was a woodturner who made the bobbins. When working on a pattern, it's a matter of where the threads are twisting and crossing, she said.
"There are no knots and every thread that's in the lace starts from the beginning and is wound on the bobbin," Davis said. "It's just a matter of following the pattern and twisting and crossing the right pairs."
Davis has an introduction class on bobbin lace from 10 a.m. to 3 p.m. Saturday, June 9 at Fiber Creek, 1024 Willow Creek Road, Suite 123. The cost is $50 and enrollment can be done by calling 928-717-1774 or emailing info@fibercreekprescott.com.
The Folk Arts Fair continues from 10 a.m. to 4 p.m. Sunday, June 3 at the Sharlot Hall Museum, 415 W. Gurley St. Admission is $9 for adults, free for children ages 17 and under and $5 for museum members.
SUBMIT FEEDBACK
Click Below to:
More like this story