Amos is 'humbled and honored' to be part of YRMC

By
Nanci Hutson
|
HutsonNanci
Originally Published: June 3, 2018 6:03 a.m.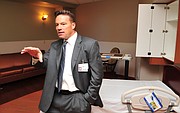 A Christmas Day backyard flag football game more than a decade ago ended up with Yavapai Regional Medical Center President and Chief Executive Officer John Amos in the hospital emergency room.
Diagnosis: an anterior cruciate ligament (ACL0 tear), requiring out-patient knee surgery and physical therapy. The now 53-year-old's injury offered the then-YRMC East campus administrator a chance to be an unexpected undercover boss, seeing up close and personal how patients are treated at the hospital.
"I can attest, first hand, that we have great caregivers," assured Amos who bears the countenance and physique of a lifelong athlete who has a ready handshake and friendly smile. "They treat everyone with great respect and compassion. The culture is incredible here."
PATH TO YRMC
A Colorado native, Amos was a high school wrestler and football player who excelled in the sciences, admitting to an early aptitude and fascination with physiology, neurology and anatomy. At Colorado State University, he majored in occupational therapy with a specialty in upper extremity injuries.
"It was a passion," Amos said.
After marrying his college sweetheart, Mary Jo, now an area real estate agent, Amos accepted his first position at a hospital that specializes in spinal cord and head injuries in Vero Beach, Florida.
The couple who now have two children — Allie Jo, 19, a scholar/athlete at Lasell College in Boston and Colton, 17, a Prescott High School senior all-star football scholar — lived there three years before Amos accepted his first YRMC position in 1992 as an occupational therapist.
Two years later he became a clinical supervisor.
When researching YRMC — he jokes there was no Google in those days — Amos said he was impressed by the hospital's "total healing environment" that focuses on body, mind and spirit.
"I was attracted to an organization that talked about the patient, and also talked about meeting community need," Amos said of steering clear of places that were all about market share and numbers.
Amos left the hospital for five years for a management position with a national rehabilitation company.
Then in 1999 — as he was earning a master's degree in business management from Northern Arizona University — Amos applied and was hired to be YRMC's new director of physical rehabilitation services.
His new role, in which he helped open a sports clinic and enhance orthopedic care, coincided with plans to construct an east campus in Prescott Valley; a ground level leadership opportunity that led to his selection in 2004 to be the East Campus administrator.
MEMORIES
Amos still laughs about the opening of what started as a 50-bed satellite hospital campus — the East Campus today has 72 beds; the West Campus has 134.
Scheduled for a 7 a.m. ribbon-cutting celebration, the campus team answered a knock on the emergency room door about a half hour earlier from someone suffering an orthopedic injury.
"We all looked at each other, and we thought well, 'We're open," Amos said of launching what he considers a grand tradition of community service that has evolved into multiple specialties.
"It's been fun to see the East grow over the last decade," Amos said.
LEADERSHIP STYLE
In his role at the helm of YRMC since 2013, Amos said what motivates him is matching clinical talent to the need for new programs and community needs.
He is a "big picture" thinker with a collaborative style such that "everyone has a voice in the process, according to Amos and his colleagues.
The hospital's commitment must be to "deliver at an equal, if not better, value than you can receive anywhere in the country," he said.
ATTRIBUTES
YRMC Community Outreach and Philanthropy Executive Director Robbie Nicol described Amos as a "remarkable family man," endearing qualities in someone who is a patient-first administrator.
Retired family physician, Dr. William Thrift, credits Amos with YRMC's penchant for progress. The West Campus cardiac center is a competitor with similar health facilities across the country. A $6.5 million hybrid operating suite opened in 2015 that enabled the hospital to offer interventional physiology and more advanced cardiac interventions.
"That was John's baby," Thrift said.
Paula Kneisl, who just completed a three-year term as the YRMC Board of Trustees chairwoman, said Amos "respects others and commands respect himself." Kneisl, Nicol and Thrift agree Amos is someone they trust to lead the hospital into its next milestones.
"He is a delightful human being," Kneisl said.
PERSONAL LIFE
Despite a rigorous schedule, Amos has always made time to participate in health and civic-related organizations in Prescott and Prescott Valley.
He spent four years as a Prescott Youth Football and middle school wrestling coach. Off-duty, the Amos family likes to snow ski, waterski, and ride dirt bikes.
A history buff, Amos has come to call Prescott and its environs "home."
Indeed, Amos said he sees his job as more than a place to work. He said he is privileged to practice his passion.
"This is a job that is part of me," he said.
More like this story
SUBMIT FEEDBACK
Click Below to: