Man dies after being struck by motorist in Cottonwood
Witnesses report beacon/hawk was not lit at time of accident; no criminal charges
The Verde Independent
Originally Published: June 2, 2018 5:51 a.m.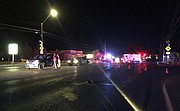 COTTONWOOD – A man died after being struck by a motorist at the intersection of Main and Cherry streets Thursday night, according to Cottonwood police.
According to a news release from Cottonwood PD Sgt. Cody Savage, the accident occurred at about 8:34 p.m.
"Officers conducted an investigation on the driver of the Dodge SUV and did not discover any criminal offenses," the news release states.
The news release states a blue Dodge Nitro SUV was traveling north in the inside lane of Main Street when the victim, a 42-year-old man from Clarkdale, entered the crosswalk. "The light conditions were dark and the driver did not see the pedestrian enter the crosswalk," Sgt. Savage's news release stated.
Although officers determined the pedestrian beacon/hawk (High-Intensity Activated crossWalK) at the crosswalk was functioning properly, witnesses reported the beacon was not activated before the man entered the crosswalk, according to Sgt. Savage.
Sgt. Savage said emergency medical personnel responded and continued treatment for the man, who was subsequently transported by ambulance to Verde Valley Medical Center. He "unfortunately passed," said Sgt. Savage.
Savage said the Cottonwood Police Department Advanced Collision Investigative Team responded to the scene to assist.
"At this time their investigation is ongoing," he said.
Information provided by Cottonwood Police Dept.
More like this story
SUBMIT FEEDBACK
Click Below to: