Now showing: June 1
Originally Published: June 1, 2018 6 a.m.
Movies playing at Harkins Theatres, 7202 Pav Way, Prescott Valley (Highway 69 between Glassford Hill and Lake Valley roads), as of press time. 928-775-7444; www.harkins.com.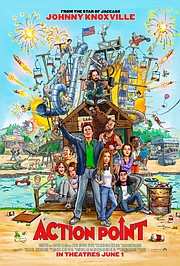 (NEW) ACTION POINT – D.C. is the crackpot owner of Action Point, a low-rent, out-of-control amusement park where the rides are designed with minimum safety for maximum fun. Just as his estranged daughter Boogie comes to visit, a corporate mega-park opens nearby and jeopardizes the future of Action Point. To save his beloved park and his relationship with Boogie, D.C. and his loony crew of misfits must risk everything to pull out all the stops and save the day. Stars Johnny Knoxville, Brigette Lundy-Paine, and Eleanor Worthington Cox. Rated R – action, adventure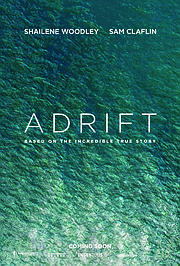 (NEW) ADRIFT - Tami Oldham and Richard Sharp couldn't anticipate that they would be sailing directly into one of the most catastrophic hurricanes in recorded history. In the aftermath of the storm, Tami awakens to find Richard badly injured and their boat in ruins. With no hope of rescue, Tami must now find the strength and determination to save herself and the only man she has ever loved. Stars Sam Claflin, Elizabeth Hawthorne, and Jeffrey Thomas. Rated PG-13 – drama, thriller
Also showing:
SOLO: A STAR WARS STORY – Through a series of daring escapades, young Han Solo meets his future co-pilot Chewbacca and encounters the notorious gambler Lando Calrissian. Stars Alden Ehrenreich as Han Solo, Emilia Clarke as Kira, and Donald Glover as Lando Calrissian. Rated PG-13 – fantasy, science fiction
DEADPOOL 2 – Wisecracking mercenary Deadpool joins forces with three mutants -- Bedlam, Shatterstar and Domino -- to protect a boy from the all-powerful Cable. Stars Ryan Reynolds, Josh Brolin and Morena Baccarin. Rated R - Action & Adventure, Comedy
AVENGERS: INFINITY WAR - Iron Man, Thor, the Hulk and the rest of the Avengers unite to battle their most powerful enemy yet -- the evil Thanos. On a mission to collect all six Infinity Stones, Thanos plans to use the artifacts to inflict his twisted will on reality. The fate of the planet and existence itself has never been more uncertain as everything the Avengers have fought for has led up to this moment. Stars Robert Downey Jr., Chris Pratt, and Chris Evans. Rated PG-13 – fantasy, science fiction
BREAKING IN – Shaun Russell takes her son and daughter on a weekend getaway to her late father's secluded, high-tech vacation home in the countryside. The family soon gets an unwelcome surprise when four men break into the house to find hidden money. After managing to escape, Shaun must now figure out a way to turn the tables on the desperate thieves and save her captive children. Stars Gabrielle Union, Ajiona Alexus, and Billy Burke. Rated PG-13 – thriller
BOOK CLUB - Diane (Diane Keaton) is recently widowed after 40 years of marriage, Vivian (Jane Fonda) enjoys her men with no strings attached, Sharon (Candice Bergen) is still working through her decades-old divorce, and Carol's (Mary Steenburgen) marriage is in a slump after 35 years. The lives of these four lifelong friends are turned upside down after reading the infamous "50 Shades of Grey," catapulting them into a series of outrageous life choices. Rated PG-13 – comedy
LIFE OF THE PARTY – When her husband suddenly dumps her, longtime and dedicated housewife Deanna turns regret into reset by going back to college. Unfortunately, Deanna winds up at the same school as her less-than-thrilled daughter. Plunging headlong into the campus experience, the outspoken new student soon begins a journey of self-discovery while fully embracing all of the fun, freedom and frat boys that she can handle. Stars Melissa McCarthy, Gillian Jacobs, and Maya Rudolph. Rated PG-13 – comedy
OVERBOARD – Kate is a single, working-class mother of three who's hired to clean a luxury yacht that belongs to Leonardo -- a selfish, spoiled and wealthy Mexican playboy. After unjustly firing Kate, Leonardo falls off the boat and wakes up with no memory of who he is. To get payback, Kate shows up at the hospital and convinces the confused amnesiac that they're married. As Leonardo tries to get used to manual labor and his new family, Kate starts to wonder how long she can keep fooling her fake husband. Stars Eugenio Derbez, Anna Faris, and Eva Longoria. Rated PG-13 – romance, drama
SHOW DOGS - After a failed attempt to recover a stolen baby panda, police dog Max reluctantly teams up with a human FBI agent named Frank. A hot tip leads Max and Frank to Las Vegas for the world's most exclusive dog show. To find the panda, Max goes under cover as a contestant to get the lowdown from his fellow canines. With help from their new friends, the crime-fighting duo must now foil another kidnapping plot and rescue other valuable animals from a gang of greedy smugglers. Cast includes Will Arnett, Natasha Lyonne, and Ludacris. Rated PG – crime, action
SMURFS: THE LOST VILLAGE – Best friends Smurfette (Demi Lovato), Brainy (Danny Pudi), Clumsy (Jack McBrayer) and Hefty (Joe Manganiello) use a special map that guides them through the Forbidden Forest, an enchanted wonderland that's filled with magical creatures. Their adventure leads them on a course to discover the biggest secret in Smurf history as they race against time and the evil wizard Gargamel (Rainn Wilson) to find a mysterious village. Cast of Demi Lovato, Rainn Wilson, and Jack McBrayer. Rated PG – fantasy, adventure
More like this story
SUBMIT FEEDBACK
Click Below to:
This Week's Circulars
To view money-saving ads...