'Hellgate,' a fictional outlaw hideout behind Thumb Butte, features in author's talk Saturday
P. Grady Cox to read, sign her Western novel that includes 1879 Prescott

Originally Published: June 1, 2018 6 a.m.
Criminals are welcome in Hellgate, a fictional hideout located behind Thumb Butte in the Arizona Territory of 1879. Rose LaBelle, daughter of a U.S. Marshal, is kidnapped after a stage robbery and taken to Hellgate in the recently published Western, "Hellgate," by Phoenix author Patricia Grady Cox.
Cox will read, answer questions and sign her books at 2 p.m. Saturday, June 2, at The Peregrine Book Company, 219A N. Cortez, Prescott.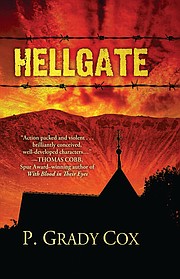 One of the outlaws appears to protect LaBelle, but Hellgate's leader, Mason McCabe, takes a personal interest and the novel dips into nightmarish conditions for LaBelle and other women and children held captive. Meanwhile, back in Prescott, LaBelle's Aunt Mary Alice struggles with her excess use of laudanum, alcohol and morphine, along with the conventional 1880s society that includes Ft. Whipple's officers and their wives.
Cox said her love of writing began with a seventh-grade teacher's encouragement to write a novel, one chapter a week. Her first novel attempt incorporated aliens and shoot-outs.
"Hellgate" is Cox's second novel. The first, another Western titled "Chasm Creek," takes place near Cave Creek and involves ghostly encounters and bloody confrontations, love and loss among three characters. The novel was chosen as a finalist in historical fiction by the New Mexico-Arizona Book Awards.
The author brings to her novels a love of the Old West and several years volunteering as a docent at the Pioneer Living History Museum north of Phoenix where she portrayed an 1800s ranch woman.
"My hope is that readers will be transported to another time and place, and they will be as emotionally involved with my characters as I am," Cox said. She is a member of Western Writers of America and Women Writing the West.
More like this story
SUBMIT FEEDBACK
Click Below to: