Discover simpler times at Folk Arts Fair

Originally Published: June 1, 2018 6:06 a.m.
Celebrate vintage crafts, frontier family amusements and discover a simpler time at the Sharlot Hall Museum's 45th annual Folk Arts Fair this weekend.
Over the weekend, the museum's four acre campus will transform into a vintage frontier Arizona village with demonstrations and hands-on experiences, said Education Manager and Event Coordinator Jenny Pederson in a news release. In a follow-up interview, Pederson said there's a few new demonstrators this year.
"We're going to have a juggling troupe coming, they're going to talk about and teach our visitors some juggling if they're interested. We're also going to be welcoming the antique railroad club, they'll be setting up a display," she said also mentioning a machine sock knitting group. "It was a piece of technology generally around the Civil War time and it made socks a little bit easier and faster, but it's something that there are still people who are using it today as part of at-home sock making."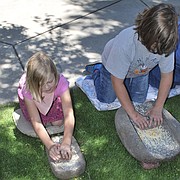 Also new this year is the Sharlot Hall Puppet Theater, Pederson said. Volunteer Dick Morgan came up with a few storylines based around frontier Arizona and frontier Prescott inspired by events, people, early Prescott, mining, settlers and daily scenes, she said.
There's the traditional demonstrators, the quilters, spinners, blacksmith, print shop editor, and hands-on crafts tables allowing young people to make cornhusk dolls and cattle brands and try tin-punching and print making, Pederson said. For people who many not have been to the event before, these traditions and crafts will be revealing, highlighting how they happened in the past and how they also happen today.
"Most of our demonstrators, the vast majority of them, they practice quilting every week, they do spinning every week, our blacksmith and print shop people, who are part of our living history group, they come in regularly. This is not just an opportunity for them to come and volunteer their time, but it's also an opportunity for them to practice their craft and share their knowledge," Pederson said. "(It's) a good opportunity for people to get a good understanding of how an early frontier community looked like in the past and how these are skills and traditions we're still practicing today."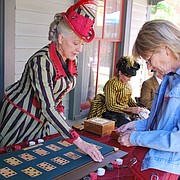 The release also mentions folk music performances focusing on cowboy songs and the influence of the Spanish on the American West with guest artists such as Gail Steiger, Greg LaCosse, Spencer & Jackson, Terry Berrett and Tony Cocilovo. There will even be historic firearms and frontier military artifacts on the museum grounds as well as a car show in the west parking lot.
The Folk Arts Fair is from 10 a.m. to 5 p.m. Saturday, June 2 and from 10 a.m. to 4 p.m. Sunday, June 3. Admission is free for youth and children under 17, $9 for adults and $5 for museum members.
This year will see a passport for youth visitors, encouraging them to engage with some of the areas around the museum, Pederson said.
"There will be areas, there will be demonstrators and there will also be crafts where they get a little bit more of a sense of how it really was because it will be more hands-on to them," she said.
"The activity passport is going to be intended for them to try things out themselves and aid them in exploring all the different areas that we'll have up and running for them to check out."
The Sharlot Hall Museum is located at 415 W Gurley St. For more information about the Folk Arts Fair, visit www.sharlot.org.
By Jason Wheeler, follow him on Twitter @PrescottWheels, reach him at 928-445-3333 ext. 2037
More like this story
SUBMIT FEEDBACK
Click Below to: