Whopping 3,500 attend Prescott Valley Fandomania event
Sue Tone and Jason Wheeler, Prescott Valley Tribune
Originally Published: July 31, 2018 6:49 p.m.
The Saturday, July 28, Fandomania event began at 10 a.m., and even a couple hours in, there was a good turnout of participants, said Prescott Valley Public Library Teen Librarian Shelbie Marks.
A total of 3,500 people attended the event, reported Library Director Casey Van Haren Tuesday, July 31.
"It really surpassed my expectations," she said. "People let us know how much they enjoyed the family atmosphere and how our community needs more events like these."
Dressed as the comic book character Robin, Haley Oravac came to the inaugural Fandomania comic-con event to find her people. And so she did, discovering herself among numerous other costumed attendees.
Having recently moved to Prescott, Oravac said she heard about the event and wanted to check it out. She dressed up as Robin, of Batman fame, because he's always been her favorite, she said.
"I've done it before," Oravac said. "I didn't know how many people would be out here cosplaying and I thought, if not, who cares?"
Fandomania combined costumes with comic books, movies, books, fantasy and virtual reality with life-sized Mario Kart racing, an interactive "Star Wars" story, games of Dungeons and Dragons hosted by Game On!, a class on miniature painting, a cosplay fashion show and many other events.
Photo Gallery
Comic Con In Prescott Valley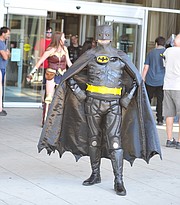 The virtual reality aspect of the event was popular with Sean Souva of Virtual Odysseys who noted that each session was five minutes long and he had booked out through the next 90 minutes.
"I'm using this as a promotional opportunity to let people know we're here," Souva said about the company that began in May. "We're based out of Chino and we service Prescott, Flagstaff and Phoenix areas."
Uriel Saldana, dressed as the character Goku from the Japanese "Dragon Ball" franchise enjoyed the virtual reality experience. It was a lot of fun and a new experience compared to playing games on a console or computer, Saldana said.
"You're actually in the game, moving around," he said. "You can always have a fun time, every single time."
Saldana said he has always wanted to go to a comic-con event. His sister told him about the Fandomania event and he found it was everything he liked, he said.
Van Haren praised the library's hardworking and dedicated staff. "Without them, this would not have been possible."
She said the event brought a lot of people from the area who had never been to the library. "They were shocked to see what a beautiful facility we have here and how large it is."
More like this story
SUBMIT FEEDBACK
Click Below to:
This Week's Circulars
To view money-saving ads...