By
Nanci Hutson
|
HutsonNanci
Originally Published: July 31, 2018 9:08 p.m.
What does a Hula Hoop, a blind fold and a balloon have to do with the opening day of school?
Ask Prescott Unified School District (PUSD) Superintendent Joe Howard.
The leader of the district's administration team was one of the winners of a Tuesday morning relay scheduled as part of a hand-clapping, feet-stomping pep rally organized in the Prescott High School gymnasium to welcome back the district's 500 or so faculty and staff. One of them, Mile High Middle School technology teacher Terry Pemberton was honored as PUSD's most senior faculty member — he is in his 48th year as an educator.
With some hip swivels, and firm plop down to break a balloon, Howard showed off his good humor as he and his administrative team showered the PUSD "family" with appreciation and recognition for what they will do for a majority of this community's children starting on Thursday.
Special recognition awards delivered by Prescott High School students.
Welcome Back Award: Prescott High Principal Mark Goligoski and Assistant Principal Clark Tenney – both are new to the high school this year as part of a leadership realignment at three of the schools.
Sportsman of the Year: Abia Judd Elementary physical education teacher Dan Dendy.
Bill Nye the Science Guy Award: Mile High Middle School science teacher Andy Andre
Teacher Award: Mile High Middle School technology teacher Terry Pemberton
The Blossom Award: Lincoln Elementary Principal Karen Hughes
The Helping Hands Award: Taylor Hicks teacher Denise Murphy who is in her third year as director of the Arizona Reads Now early childhood literacy project.
"We have a community, who has our backs," Howard said, noting the Prescott Unified Education Foundation has donated some $300,000 in teacher grants since it was formed three years ago.
Howard expressed particular gratitude to the Prescott Chamber of Commerce, and community as a whole, for their continuous and dedicated support to enabling this district to live their motto "Every Child, Every Day."
As for the rally, Howard said he enjoys anytime the district can all come together as a body and celebrate their commitment to enriching the minds and lives of close to 4,000 children in Prescott.
"This was a blast," he said.
The Prescott High School band kicked off the morning with the school's theme song that was followed by JROTC members showing off the colors and the chorus performing the national anthem. In pep rally style, students encouraged faculty and staff from across the district to cheer for their individual schools or district teams with full body sways back and forth. Students also gave out some distinct awards to several teachers and administrators.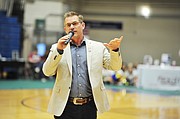 The hourlong rally was all about honoring traditions and celebrating faculty and staff, who make PUSD what Mayor Greg Mengarelli — finishing his four-year term on the district's Governing Board — called a "special place."
"We couldn't have the community we have without what you all do in the classroom every day," Mengarelli said, noting he is so proud that a number of recent Prescott High graduates have joined the local work force and a good number of PUSD faculty are PHS Badgers.
"I am so grateful to serve this city, the school board, and serve you."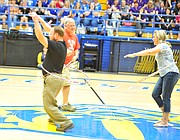 Lincoln Elementary front office clerk Kerrie Wright said she thought the opening ceremonies were "fabulous."
"The camaraderie and excitement were just overpowering and overwhelming, in a good way. It was the best way to get the district ready for the new year," said Wright, whose two sons will be returning to PUSD schools on Aug. 2; Ethan will be a freshman at Prescott High and Jonas, a sixth-grader at Granite Mountain.
"There's just no place like PUSD … I get up every day at the crack of dawn to go to work somewhere I love. I wouldn't want to be anywhere else."
More like this story
SUBMIT FEEDBACK
Click Below to:
This Week's Circulars
To view money-saving ads...