300 backpacks with supplies given out Saturday
More available Aug. 1 at HUSD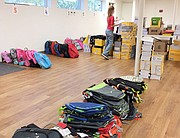 Five students from one family made up the first group of the day Friday, July 27, to help fill backpacks with school supplies at the Trinity Lutheran Church in Prescott Valley. Volunteers from other service organizations came later in the day and also showed up Saturday, July 28, to hand out the backpacks to students.
Fred Pamer, deacon at the church and a bus driver for the Humboldt Unified School District, organizes the school supplies drive, collecting supplies all year long either at a discount or offered free.
When he began 11 years ago, he was able to provide 50 backpacks for students in need. This year, he is able to help 300 students.
In addition to supplies, he works with Walmart with a back-to-school clothing event for students in need and the Angel tree during the holidays.
"It's something I love to do for the kids. Instead of buying backpacks and supplies, they can buy food for the table or pay the light bill," Pamer said.
Tables heaped with notebook paper, rulers, glue and markers were set up in a horseshoe formation in the large activity room at the church. The Schaffer children moved from table to table with classroom supply lists in hand and placed filled backpacks against the wall beneath signs for each grade level.
Bethleah is a senior at Bradshaw Mountain High School, Amanda is a junior, Jennetta is a seventh-grader at Franklin Phonetic School. Paul, BMHS Class of 2015, and Jacob, Class of 2016, attend Yavapai College.
Local businesses and church members donate to the backpack project, Pamer said. A fundraising golf tournament brought in $5,000. Several stores will call Pamer throughout the year to offer supplies.
"I don't turn down anything. If I do, they turn me down next year," he said, adding that he has two sheds at home where he stores the goods.
This year alone, he bought 3,000 pencils. He found binders for 10 cents each, very reasonable, since binders usually sell for $1. "All year I keep my eyes open for sales," Pamer said.
Another school supply event for students took place Saturday in Prescott sponsored by Bloomtree Realty. Costco donated backpacks with supplies to all first through fourth grades at Liberty Traditional School. Center for Compassion and Justice donated school supplies for all kindergarten through sixth-grade students at Mountain View Elementary School.
From 10 a.m. to 6 p.m. today, Aug. 1, families can pick up supplies at the Humboldt Unified School District office, 6411 N. Robert Road, while supplies last. Military families can come at 9 a.m. This event is sponsored by Operation Homefront, Firefighter Angel, and Humboldt Schools.
More like this story
SUBMIT FEEDBACK
Click Below to: