Saving your devices from lightning strikes
'This is the season — there's a million of them here,' says one repair tech
Originally Published: July 30, 2018 7:40 p.m.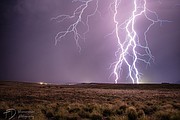 We've all heard the phrase, "When the thunder roars, go indoors."
That advice, while true, doesn't tell the whole story, because, sometimes, the lightning comes inside as well.
There have been four houses struck by lightning in the Central Arizona Fire & Medical Authority coverage area since July 6, according to Battalion Chief Brad Davis, and one of them sustained electrical damage.
Prescott Fire Division Chief Don Devendorf said he was aware of a single home struck by lightning in the city in recent weeks.
Electronic devices can and do become damaged by power surges driven by lightning strikes.
"Once in a structure, lightning can travel through the electrical, phone, plumbing, and radio/television reception systems," the Centers for Disease Control and Prevention website states.
"Lightning can also travel through any metal wires or bars in concrete walls or flooring."
Some tips that your mom may have warned you about are still true, said the CDC:
• Stay off corded phones. Use cellular or cordless phones.
• Don't touch electrical equipment, such as computers, TVs, or cords. You can use remote controls safety.
• Don't unplug electronics once a thunderstorm hits, or you could be shocked.
• Stay away from exterior windows and doors that might contain metal components leading from outside your home to the inside.
Last week, in Nevada, a home was hit by lightning that ran down the trunk of a tree and continued through an extension cord lying near the trunk.
The bolt continued across the yard where it struck a chain-link fence, moved into the house, where it went into wiring to the garage door opener, refrigerator, computer router and the fiber optic box before burning through the wiring, phone jacks and piping.
That's an extreme example, but, said Isaac Hagans at the Prescott Best Buy Geek Squad, "It is possible, though unlikely, that during thunderstorms around here, a lightning strike can destroy your devices."
He's seen "quite a few items" come into the shop after lightning damage, and it's why he recommends surge protectors, especially on computers.
Computer hard drives "are usually a lost cause," although some other fried electronics can be repaired, he said.
But, it depends on who you talk to. At BNG TV and Electronic Repair in Prescott Valley, Steve LaVigne countered that surge protectors are useless.
"Think about this: You know how big a lightning bolt is — it's probably a mile or two long — and when that hits a surge protector, which is about the size of a nickel, it's going to turn into dust," he said with a chuckle.
"The key is, people need to start unplugging things," when they're going to be away, LaVigne said.
LaVigne, with 55 years of TV and electronic repair experience, said a co-worker, whose specialty is television repair, has resurrected more than 24,000 damaged TV sets, many with lightning damage.
Surprisingly, computers are usually an easy repair, he said, because all but the strongest power surges typically fry the machine's power supply, not the hard drives.
More like this story
SUBMIT FEEDBACK
Click Below to: