First Fandomania a hit at Prescott Valley Public Library
Numerous costumed attendees at July 28 event

Originally Published: July 29, 2018 6:25 p.m.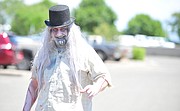 Dressed as the comic book character Robin, Haley Oravac went to the inaugural Fandomania comic-con event at the Prescott Valley Public Library Saturday, July 28 to find her people.
She found them, discovering herself among numerous other costumed attendees. Having recently moved to Prescott, Oravac said she heard about the event and wanted to check it out. She dressed up as Robin, of Batman fame, because he's always been her favorite, she said.
"I've done it before," Oravac said. "I didn't know how many people would be out here cosplaying and I thought if not, who cares?"
The event started at 10 a.m. Saturday morning and even just a couple hours in, it had a good turnout, said Teen Librarian Shelbie Marks, who was dressed as Wonder Woman. Marks said she expected more as the day rolled on and was excited for anybody who turned out.
Fandomania combined those costumes with comic books, movies, books, fantasy and virtual reality with life-size Mario Kart racing, an interactive "Star Wars" story, games of Dungeons and Dragons hosted by Game On!, a class on miniature painting, a cosplay fashion show and many other events.
The virtual reality aspect of the event was pretty popular with Sean Souva of Virtual Odysseys noting that each session was five minutes long and he had booked out through the next 90 minutes. The company, Virtual Odysseys, started business in May, Souva said.
"I'm using this as a promotional opportunity to let people know we're here," he said. "We're based out of Chino and we service Prescott, Flagstaff and Phoenix areas."
One person enjoying the virtual reality experience was Uriel Saldana, who was dressed up as the character Goku from the Japanese "Dragon Ball" franchise. Virtual reality is a lot of fun and is a new experience compared to playing games on a console or on a computer, Saldana said.
"You're actually in the game, moving around," he said. "You can always have a fun time, every single time."
Saldana said he's always wanted to go to a comic-con event and missed Phoenix. However, his sister told him about the Fandomania event and it was all things he liked, he said.
More like this story
SUBMIT FEEDBACK
Click Below to: