By
Nanci Hutson
|
HutsonNanci
Originally Published: July 28, 2018 6:13 p.m.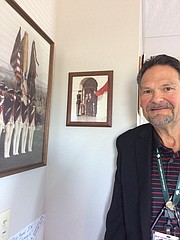 On the first day of summer in 2017, West Yavapai Guidance Clinic Executive Director Larry Green was a happy man — the agency he shepherded for 12 years reached a milestone.
With a $1.75 million investment, the largest mental health provider in the region opened what for too long was a gap in mental health coverage — a crisis stabilization unit for those in need of urgent mental health attention that without it likely meant a trip to the emergency room or booking into the jail.
One year later, the unit that started with three patients has now served almost 3,000 people with area police bringing 350 to receive what is a combination of care options — the unit offers 10 lounge chairs for people who need up to 23 hours and 59 minutes of crisis care and counseling and eight beds for those who are determined to require short-term stays of three to five days.
"That is the icing on the cake for me," Green said last week of the collaborative effort that culminated in the opening of a much-needed facility.
The crisis stabilization unit and the opening of the 16-bed Windhaven Psychiatric Facility in Prescott at the start of his agency tenure — the first day on the job in 2005 he met with an architect about plans for the facility structure — are two of the highlights of Green's 13 years as WYGC's leader. Green, 59, recently announced he will retire his position after 35 years in the field on Aug. 2, 2019.
Green was selected for his post from among a pool of 80 other candidates.
"Over the past 13 years, Larry's visionary leadership has taken West Yavapai Guidance Clinic to new heights," said WYGC Board of Directors President Danny Brown, who said a similar national search will be conducted to find Green's replacement. "Our psychiatric hospital and crisis stabilization unit are just two of the many projects developed during his tenure."
MatForce Executive Director Merilee Fowler, who has worked with Green on her board from soon after he arrived, called him an "outstanding leader."
"I know for sure his successor will have very big shoes to fill," she said.
Prescott Valley Town Manager Larry Tarkowski said he respects the partnership Green fostered with the community, with the agency remaining "innovative and very customer-oriented, and for that we are thankful."
As Green begins to wind down fulfilling, yet demanding, career, Green is clear what has always mattered most to him was the ability to offer hope to those who have lost their way — whether that was as a novice direct care worker at Father Flanagan's Boys Home in Omaha, Nebraska, arranging street outreach for homeless teens or directing a residential treatment center for youth in Scottsdale.
In his role at WYGC, Green's team-oriented philosophy has remained the same.
"Not only does our team (350 employees) save lives, we inspire hope in someone who is getting on the road to recovery," Green said of the care delivered to some 7,000 clients each year.
Green's segue into social services occurred after spending three years in the United States Army where he served as part of the Presidential Honor Guard and was a member of the Continental Color Guard. Photographs in his office show the young Green standing guard for then-President Jimmy Carter at the White House and standing guard at the Tomb of the Unknown Soldier in Arlington Cemetery.
After his military service, Green returned to his home state and used the GI bill to earn both his undergraduate and master's degree in social service fields.
He spent the first 13 years of his career with Father Flanagan's Boys Town, advancing from a direct care worker to a program development consultant. In 1997, Green and his wife of now 36 years, Debra, who together have a daughter and son and five grandchildren aged four to 17, moved to Arizona where he worked at various jobs until landing a position as a program director for a small grass-roots youth services agency. Prior to coming to West Yavapai Guidance Clinic, Green was heading up a regional behavioral health program in Yuma.
Since his arrival, Green said WYGC has grown in size and reputation, offering 11 nationally accredited programs aimed at providing the highest caliber mental health and treatment services to their clientele throughout the region. One new addition is an outpatient clinic in Chino Valley for patients with serious mental illness that integrates primary and psychiatric care.
Green is quick to say all of WYGC's accomplishments and growth are due to the agency's team approach and connections with multiple community partners, ranging from government leaders, schools and law enforcement to fellow non-profit agencies.
Mental health care cannot be a solo endeavor, he said.
"It takes a village to succeed as an organization," Green said.
More like this story
SUBMIT FEEDBACK
Click Below to:
This Week's Circulars
To view money-saving ads...