Hospitalized suspect in Arizona trooper's death out of coma
Originally Published: July 27, 2018 4:48 p.m.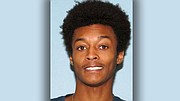 PHOENIX — A man who fired an Arizona state trooper's gun, killing one trooper and wounding another, has regained consciousness after being placed in a coma, authorities said Friday.
Arizona Department of Public Safety officials confirmed that Isaac D. King, 20, was awake and alert at a Phoenix-area hospital. He is not expected to be released anytime soon, DPS spokesman Bart Graves said.
King had significant injuries when he was hospitalized after Wednesday night's shooting, the Arizona Republic reported . Agency director Col. Frank Milstead did not detail the nature of his injuries, but told the newspaper King had to be put in a medically induced coma.
King, who has a history of mental illness and takes medication for anxiety and depression, had initially refused treatment.
"The medical people did not think that was a good idea, and they treated him because they were afraid if they didn't treat him, he would not survive," Milstead told the newspaper.
Authorities say King fatally shot Trooper Tyler Edenhofer while fighting officers along a major interstate in suburban Phoenix.
State troopers were called to Interstate 10 about 15 miles (24 kilometers) west of downtown Phoenix after 911 calls reported someone throwing objects at vehicles. Troopers got into a struggle with King while trying to get him off the road. After eight minutes of fighting, authorities say King somehow grabbed a gun belonging to a plainclothes trooper and fired two shots.
One struck Edenhofer. Another hit a trooper in the shoulder. He was treated at a hospital and released.
Edenhofer was in his last week of field training. The 24-year-old graduated from the Department of Public Safety academy two months ago and was engaged to be married.
Joe Seabert, a friend of Edenhofer's family, said he was outraged that the suspect's mental health history was drawing some sympathy.
"Half of America has depression and anxiety or both," Seabert said in a Facebook message. "But they aren't playing frogger on the freeway throwing rocks at cars, and killing innocent officers...He needs to face punishment for his crime."
Edenhofer's death is the second time in five years that an Arizona trooper has died while on duty. Trooper Tim Huffman was killed in May 2013 on an interstate near Yuma when his vehicle was hit by a commercial truck.
Editor's note: King was able to grab fellow Trooper Sean Rodecap's duty weapon, which was allegedly used to kill Trooper Tyler Edenhofer. Rodecap's gun was reportedly in a leather non-retention holster with a snap top fixed to his belt. A typical duty belt would have a stronger internal locking feature.
More like this story
SUBMIT FEEDBACK
Click Below to: