Border Patrol finds active WWII ordnance by boundary fence
Originally Published: July 26, 2018 3:06 p.m.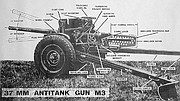 BISBEE, Ariz. (AP) — The U.S. Border Patrol says its agents discovered an active round of ammunition apparently from a circa World War II piece of artillery.
The agency's Tucson sector says the unexploded device was found Friday in Bisbee, Arizona near the international boundary fence with Mexico.
It says deputies from the Cochise County Sheriff's Office helped set up a safety perimeter around the device to keep people away from it.
An explosives expert from Davis-Monthan Air Force Base on Tuesday examined the ammunition, determined it was live and detonated it in place.
The ammunition appears to be a 37mm MK2 round made for use with a 37mm M3 gun. According to Wikipedia, The 37 mm Gun M3 was introduced in 1940 as the first dedicated anti-tank gun used in the field by United States forces in numbers. It became the standard anti-tank gun of the U.S. infantry with its size enabling it to be pulled by a jeep.
There was no word on where the ordnance might have come from and how it ended up near the international boundary fence.
More like this story
SUBMIT FEEDBACK
Click Below to: