Antique Auto Club puts on annual car show at Watson Lake Aug. 4-5, 2018

Originally Published: July 26, 2018 8:49 p.m.
Updated as of Thursday, August 2, 2018 6:12 AM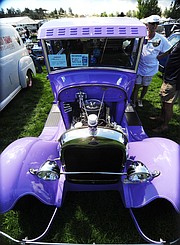 The Prescott Antique Auto Club is putting on its 44th annual show next weekend at Watson Lake, showing cars, exchanging parts and selling in a for-sale car corral.
Kathy Mullen of the Prescott Antique Auto Club said putting on the show is a labor of love with work on it starting early in the year. It usually includes between 200 and 300 classic cars and more than 6,000 people showing up to check the show out, Mullen said.
Held from 7 a.m. to 4 p.m. Saturday and Sunday, Aug. 4-5, at Watson Lake Park, 3101 Watson Lake Park Road, Admission is $5 per person for both days and free for youth ages 15 and under with an adult. Parking is free.
The car show itself ends at 2:30 p.m. both days though the other portions of the event continue through 4 p.m.
Along with the car show, which includes cars and trucks from years 1993 and older, is a parts exchange and swap meet along with raffle prizes for both days and a cars-for sale- corral which opens at 7 a.m. Friday Aug. 3, and accepts cars all weekend at $20 per vehicle. The vehicles must be removed from Watson Lake Park by 5 p.m. Sunday.
There's also the old engine fire-up area, which is a special area for displaying antique and older engines, tractors, steam engines, hit and miss novelty equipment and unique vehicles.
"There's a lot to see," Mullen said, noting that it's a big show that's a labor of love. "There's a lot of work, a lot of manpower and hours that go into it."
The club tries to reach out as far as possible to get cars from all the areas of Arizona and there's even cars from outside the state, Mullen said. Some people even bring their cars from California.
One car in the show is a 1918 E-35 Buick, owned by Scott and Carol Hein. The two are Prescott residents and have shown the car all around at various Arizona car events, Scott Hein said.
"It's been in the Christmas Parade, It's been in the Veteran's (Day) Parade," he said. "I like to put veterans in it during the Veteran's (Day) Parade."
According to a short history, the 1918 Buick was originally given to Carol Hein's great aunt and uncle who sold it to her grandparents, all of whom were homesteaders in Central Montana in 1920. It was used almost daily until 1937 when, due to drought, the grandparents left the homestead for a new life in Bozeman. The car was in storage until 1980 when Carol Hein's parents brought it home and restored it.
Mullen even said she has a classic car from 1969 that she is the original owner of. It became an antique while she owned it, she said.
"Then I noticed that people have a lot of interest in it," Mullen said. "It became more of a special car to me than just a street car."
For more information about the Prescott Antique Auto Club's 44th annual Watson Lake Show, visit www.paacaz.com.
AT A GLANCE - EVENT TIMES AND GENERAL ADMISSION
44th Annual Prescott Antique Auto Club
Watson Lake Show Saturday & Sunday, Aug. 4-5, 2018
7am to 4pm Saturday & Sunday. Car Shows from 8am to 3pm.
Parts Exchange/Swap Meet & Raffle prizes both days.
Wristband event: General admission only $5 per person for both days!
15 and under w/adult free admission. Free Parking!
More like this story
SUBMIT FEEDBACK
Click Below to: