PUSD earns voluntary district-wide accreditation for embracing motto of "Every Child, Every Day"
Accreditation confirms PUSD motto

By
Nanci Hutson
|
HutsonNanci
Originally Published: July 26, 2018 9:12 p.m.
Prescott Unified School District (PUSD) earned bragging rights this summer with its national, all-district accreditation that applauded a school system-wide belief in its motto, "Every Child, Every Day."
"We just feel like this is a huge victory," declared Superintendent Joe Howard, who like fellow administrators, most appreciates that outsiders see the district mantra as more than a pithy phrase.
"We believe a lot of our staff believed in "Every Child, Every Day" long before we coined the term. But it's now become a priority … it's a pretty good vision to lean on."
PUSD is one of 44 districts out of Arizona's 250 districts to earn this distinction from AdvanceEd, an international leader that provides accreditation services to some 32,000 institutions serving 20 million students worldwide. Prescott High School's required annual accreditation was part of the voluntary district endeavor.
On a four-point scale, the district's six K-12 schools — three elementary schools and an intermediate, middle and high school – earned the highest ranks – between 3.10 and 3.51 – for supportive and well-managed learning and setting high expectations for all students. The lowest grades were a 1.83 in digital learning followed by a 2.71 related to engaging students in monitoring their own learning progress.
"Prescott Unified School District has adopted a systemic belief statement, "Every Child, Every day," that drives a culture of high expectations for staff and students, ensures ample allocation of necessary resources, and represents a student-centered focus for all stakeholders," the report reads.
Team members noted an "inclusive, comprehensive process" to determine academic priorities and creation of a strategic plan to assure resources are allocated to meet "the purpose and direction of the system."
High marks were also awarded to the district's balanced leadership model.
The district administrators and faculty have been trained in a program that creates tiers of leadership such that everyone has a stake in delivering the highest caliber education possible. This practice encourages collaboration and professional development aimed at supporting student learning at all levels.
The architect of this successful accreditation process was Assistant Superintendent Mardi Read, Howard declared. She orchestrated the process from the initial surveys required of students, staff and parents to the academic data collection, even accommodations for the visiting team members, he said.
And Read was all smiles -- she and Howard celebrated with an enthusiastic high five -- as she talked about the impact of this endorsement.
The power of such an accreditation is not only hearing how the district excels, but how it can employ best educational practices to improve for the sake of close to 4,000 students.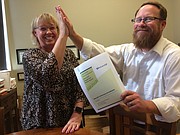 She particularly appreciates the emphasis on enabling students to become "master learners" who take charge of their own academic progress.
As a one-time fourth grade teacher, Read said she encouraged her students to track their math facts. The students were encouraged to see how many facts they learned from one weekly test to the next.
"When they own it, they are just so much more excited about it," Read said.
As this was a voluntary endeavor, Read said she appreciates how every member of PUSD embraced what was an intensive process so the district can become a national beacon of academic prowess. This is not intended to be a one-time affair, but rather a benchmark of continuous improvement that absorbs the best of what is happening in the field of education all over the world, she said.
AdvanceEd teams are well-versed in best practices for the most effective schools in the world, Read said. To know PUSD measures up is "gratifying," a testament that faculty and staff are "walking the talk," Read said.
Clark Tenney, principal at Abia Judd Elementary last year who this year is the assistant principal at Prescott High School, admits he was a bit skeptical about tackling such an ambitious project.
Afterward, though, he was grateful the district opened its doors.
"There were no major surprises … but we learned some good things about ourselves that will just help us get better in the future," Tenney said.
For Read, winning the district-wide accreditation is "frosting on the cake," a "validation that we do a damn good job … and we will continue to reflect and do the best we can for every child, every day."
Discovery Gardens earns highest ratings for district's youngest students
For three days in February, Prescott Unified School District's Discovery Gardens Early Childhood Center welcomed visiting educators from the AdvancEd accreditation team to observe, and offer commentary, on how they deliver school readiness to children between the ages of almost 3 and 5.
The results were stellar.
As part of a district-wide, voluntary accreditation, Discovery Gardens earned some of the teams' highest ratings for the caliber of instruction and care offered to the youngest of the district's student population. The average score on a four-point scale in four categories was a 3.56: the highest score was a 3.75 for positive guidance of the almost 150 children who participate in the tuition program.
Discovery Gardens is a tuition program that offers programming for children with and without disabilities. In the last three years, the pre-school has witnessed substantial growth such that beyond its main campus in Washington School, the district last year added two satellite classrooms at Taylor Hicks Elementary School. For the 2018-19 school year, Lincoln Elementary School will have an additional classroom for about 16 children and next year Abia Judd Elementary will also add a pre-school class.
Superintendent Joe Howard explained that these additional classrooms are intended to offer a neighborhood connection to the program that this year already has 160 children enrolled.
AdvancEd's report highlighted that the teachers keep a portfolio on each child's work to document progress toward the goals of becoming an independent learner. The school last year adopted a new curriculum, Opening the World of Learning (OWL), aimed at helping the 30 teachers and staff evaluate the learning and growth of each student.
The team commended the school on its proper use of all available resources, stating they witnessed no "wasted motion," be those fiscal, material or human.
"Discovery Gardens is providing a very valuable service to both (PUSD) and to the larger Prescott community," the report said. "The school serves as a model of what purposeful schools can accomplish."
Director Stacy Williams admitted this was an intensive process that showcased the staff work that goes into assuring this is an "amazing" program, with suggestions on how to assure they remain at the highest level in the future.
The accreditation process proved to Williams what she has long known to be true.
Discovery Gardens is Prescott's "hidden gem."
More like this story
SUBMIT FEEDBACK
Click Below to:
This Week's Circulars
To view money-saving ads...