7 candidates jockey to be next Arizona schools chief
MELISSA DANIELS, Associated Press
Originally Published: July 26, 2018 9:11 p.m.
PHOENIX (AP) — After tens of thousands of Arizona teachers walked out of their classrooms in protest over pay and funding this spring, voters must decide whether to choose a new chief of the public school system.
Superintendent of Public Instruction Diane Douglas is running for re-election in a five-way Republican primary, with two Democrats vying for their party's nomination.
The field is the most crowded superintendent race dating back at least five election cycles, yet another sign of the intense debates that surround education in Arizona.
Both Republican and Democratic candidates say Douglas has failed to effectively lead the Arizona Department of Education at a time when educators were frustrated enough to storm the Capitol. Meanwhile, sharp divides exist over school choice policies and proposed tax increases for more funding.
"If there was ever a moment that people are going to take the time to read and understand the differences between candidates, it's probably now," said Save Our Schools Arizona spokeswoman Dawn Penich-Thacker. That group led a successful ballot initiative push to force an upcoming vote on whether to expand the state's voucher program.
In June, teachers staged a six-day walkout, forcing many districts to shutter schools and bringing attention to the issues of teacher pay and school funding. The unprecedented walkout ended after state lawmakers approved a plan to increase teacher pay. Similar teacher protests were held in Colorado, West Virginia, Oklahoma and North Carolina.
Douglas, who unseated a Republican incumbent and inspired a failed effort for a recall election after winning in 2014, says her opponents haven't been in her shoes.
"They're making promises that they cannot possibly fulfill because the office doesn't have that authority to do whatever it is," she said.
The Republican candidates challenging Douglas are education professor Robert Branch, former BASIS Charter Schools official Jonathan Gelbart, former classroom teacher Tracy Livingston and former California Congressman Frank Riggs. The race hasn't seen floods of money, according to campaign finance records, but Gelbart has raised the most with almost $61,000 on hand at the end of the second quarter.
Douglas' opponents also point to department turnover. In 2017, the turnover rate was 23.5 percent, up from 18.2 percent the previous year, according to data provided by Department of Education spokesman Stefan Swiat. Douglas says the high turnover is partly the result of staff moving to bigger and better things, as well as retirements.
But Gelbart, who said one of his top priorities is innovation in schools, said the "hemorrhaging" of staff shows a lack of stability.
"We need somebody who is going to be at the table and be a connector to really work toward solutions," he said. "Over the past four years, there's been a lot of missed opportunities and we can't afford any more."
Riggs worked on education issues in Congress and was the CEO of a nonprofit that assisted charter schools with funding. He says he has the experience to be a good manager for the department, which employs 522 people and appropriates billions of dollars to districts.
Douglas stirred controversy early in her tenure when she moved to fire the State Board of Education's executive staff, a move that Republican Gov. Doug Ducey blocked.
"I think she has failed in that role as an advocate because people just tuned her out, and she doesn't have any credibility or clout where it counts," Riggs said.
Douglas said her opponents don't see what's happening behind the scenes, like working with the governor's office to expand broadband access in schools or improving grant management to get money to districts in a timely fashion. She called her prior dispute with Ducey "ancient history."
Branch is critical of Douglas for having a lack of experience — while she says she's spent over 25 years connected to the state's education system. Branch says he's trained thousands of educators as a professor.
"Why do we have a failed education system? Well, because we elect people that don't understand education," he said.
Douglas' Republican challengers oppose the Invest in Education Act ballot initiative that would raise income taxes on wealthy earners to fund schools. Douglas says she doesn't take official stances, but she thinks the tax increase could harm Arizona's economy.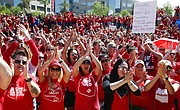 Livingston, who taught for 16 years, is concerned that high taxes would drive businesses out.
"We're throwing money at something that might not produce changes for our teachers or for our students," she said.
On the Democratic side, both candidates support Invest in Education. They share other policy priorities, but present vastly different backgrounds. David Schapira worked as a high school teacher, administrator and college educator but served on the Tempe City Council and in the Arizona Legislature. Kathy Hoffman - who has around $61,000 on hand - has spent her career in public schools, which she said makes her a more tuned-in choice than "a career politician."
"I believe that there wouldn't be another candidate who has the same experience that I have and be able to fight for the issues that I care deeply about," she said.
But Schapira, who reported almost $27,000 cash on hand at the end of the second quarter, said his legislative experience is key to getting results if he's elected superintendent.
"We've had a series of inexperienced state school superintendents," he said. "I think it's time for someone whose actually led, whose actually supervised people in an education setting, and I've done that."
More like this story
SUBMIT FEEDBACK
Click Below to: