Electric bicycles gaining traction in Prescott and US
States, businesses see economic benefit as popularity increases

By
Max Efrein
|
mefrein
Originally Published: July 25, 2018 9:51 p.m.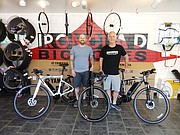 Once a complete novelty in the U.S., electric bicycles are beginning to make an impression on businesses, state legislators and bicycle enthusiasts.
Though the technology is decades old and widely used in other countries, it's only been in the last few years that Americans have taken the innovation seriously.
In May, Arizona became the ninth state in the U.S. to clarify its laws regarding electric bicycles — more commonly referred to as E-bikes.
The law defines E-bikes as fitting into three classes:
Class 1 and 2 have electric assist motors that are limited to 20 miles per hour. Class 1 are commonly referred to as "pedelecs," where the motor only provides assistance while the rider is pedaling, and it ceases to provide assistance when the E-bike reaches the speed of 20 mph.
Class 2 has the same speed limitation, but the motor is controlled by some type of throttle and not dependent on pedal input.
Class 3 are pedelecs like Class 1, but will cease providing assistance at a speedier 28 mph. (Look to sidebar for more information on E-bike laws).
Electric bicycle laws in AZ
Governor Ducey signed in to law House Bill 2562 on May 16. This bill brings Arizona to the forefront of states that have clarified their laws regarding electric bikes (E-bikes).
Aside from fitting E-bikes into three classes (see main story), the basics of the law are as follows:
• An operator of an electric bicycle is granted all the rights and privileges and is subject to all the duties of a person riding a bicycle.
• No title, registration, driver license, or vehicle insurance needed.
• Beginning in 2019, all E-bikes will need to have a factory sticker that identifies Class, top assisted speed, and motor wattage.
• Class 1 and 2 E-bikes may be used on bicycle and multi-use paths (although they may be specifically prohibited by a local jurisdiction).
• Class 3 E-bikes may not be operated on a bicycle or multi-use path unless it is within or adjacent to a roadway (although they may be specifically allowed by a local jurisdiction).
BUSINESSES/MANUFACTURERS
As reputable bicycle manufacturers have begun pushing their lines of E-bikes into the U.S. market, many professional bicycle shops have signed on to support the movement.
Ironclad Bicycles of Prescott is one such shop. It has been providing quality bicycle sales and service in the area since 1992, but they remained apprehensive of E-bikes until last year.
"Until recently, many E-bike manufacturers relied on the gimmick of the electric motor to sell their bikes, while paying little attention to the other bike components, and often there was no reliable after-sales support," said Ironclad manager Corey Reese. "When major manufacturers that we trust started producing E-bikes, we decided they deserved another look."
For about a year, the shop has been selling E-bikes from Specialized Bicycles and Haibike, and was recently selected as one of the first 20 bicycle dealers in the western U.S. to carry Yamaha E-bikes.
"Nothing can match the beauty and simplicity of a human-powered bicycle – and we remain committed to traditional bicycles – but for many people (those who want to do away with the burden of a car, or someone recovering from an injury, or just dealing with diminished capability) an E-bike can be a great way to get out, stay active, and have fun."
In select cities, electric bicycles and scooters have also become an alternative means of transportation. For instance, electric scooters are available for rent as a form of bike-share program in Scottsdale and Tempe. Similarly, electric bicycles can be rented in cities like San Francisco using smartphone apps.
BICYCLE ENTHUSIASTS
About six years ago, retired Prescott resident and bicycle enthusiast Bill Fanelli rode a demo E-bike and "had a blast," he said.
However, he held off purchasing one until about a year ago because he wanted to let the technology advance a little further.

"I saw batteries are getting better, this is getting better, that is getting better, and finally I said 'it seems like they're pretty darn good now,'" he said.
He has since convinced about eight of his local friends to purchase E-bikes as well, and they often go riding together on both Prescott-area roads and trails.
"I ride way more rides on my regular bikes than on my E-bike, but I have to say, every single time I've ridden an E-bike I've had fun," he said. "I can't say that about the regular bikes."
One of the friends he converted into an E-bike believer was 88-year-old Max Davenport.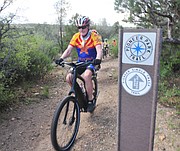 Davenport was a competitive mountain biker for many years, but was finding it difficult to maintain the pleasures of the sport with an aging body. Additionally, he's now visually impaired, so he can't ride by himself. Since acquiring an E-bike in April, it has allowed him to keep up with younger bicyclists without overexerting himself.
"I couldn't keep up if I didn't ride this, and nobody wants to poke along with me on a regular bike," Davenport said.
"It's a great equalizer," said Brad Parsons, one of the bicyclists Davenport rides with. "It creates the opportunity for different levels of riders to ride at a similar pace."
Not everyone is a raving fan of E-bikes, though.
Dave Hardy, 71, sees the technology's value, but also thinks it takes away some of the grit that serious biking is all about.
"I ride a bike for the exercise, and people who buy an E-bike are not buying the bike because they get more exercise; they expend less energy," Hardy said.
Jim Knaup, owner of Ironclad Bicycles, regularly hears this sort of sentiment.

"There are some bike enthusiasts that resent E-bikes, as if the riders are cheating, but the new Arizona law is proof that attitudes are changing, and E-bikes are gaining wider acceptance," Knaup said.
WHERE TO RIDE E-BIKES
The City of Prescott doesn't specifically allow or prohibit the use of E-bikes, so Class 1 and Class 2 E-bikes have the rights and privileges of regular bicycles, and are allowed on roads, bike routes and in bike lanes.
The same freedom applies for any City of Prescott trail.
Prescott National Forest trails are another story. The Forest Service currently considers all forms of E-bikes as motorized vehicles, thereby prohibiting their use on "non-motorized" trails.
"The Forest Service actually put quite a bit of thought into it," said Jason Williams, the trails and wilderness director for the Prescott National Forest. "Essentially, it's hard to draw that distinction; because, generally, it's either considered human-powered or not, and if it's not human-powered, it's motorized. It's just the easiest way to approach it."
To make this clear for those who don't know the rules, Williams said the Forest Service plans to put stickers up at the head of non-motorized trails stating that E-bikes are not permitted on them.
That may not always be the case, however, Williams said. National Forest and Ranger districts have the ability to independently change such rules, but it requires support from the public to do so.
"Future planning and future public demand could create a situation where we can decide to allow E-bikes on certain trails," Williams said.
But so far, there's not a ton of pressure to make that change.
"There's a drum beat of public opinion, and there's like one drummer out there right now," Williams said.
Albeit, there are hundreds of miles of motorized trails and roads in the Prescott National Forest that E-bikes can be ridden on without issue.
More like this story
SUBMIT FEEDBACK
Click Below to:
This Week's Circulars
To view money-saving ads...