Originally Published: July 24, 2018 5:42 p.m.
Name: Stubbs Fire
Location: 30 miles northwest of Prescott on the Chino Valley Ranger District
Start Date: July 9th
Size: About 795 acre
Percent Contained: 6
Cause: Lightning
Vegetation: Ponderosa Pine
Resource Commitment: 1 Type III helicopter; 1 Type II Crew; 2 Engines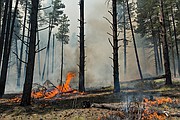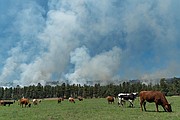 A break in the monsoon weather has allowed firefighters to continue ignitions on the Stubbs Fire. On Monday, July 23, another 200 acres were treated, bringing the current size to 795 acres.
On Tuesday, July 24, firefighters continued to assist the fire by burning along the Camp Wood Road (County Road 68) and then south on Forest Road 705. If conditions allow, aerial ignitions are planned for Wednesday, July 25, through Friday, July 27.
The lightning-ignited fire began on July 9th west of Camp Wood-near the Yolo Ranch and is being used to both restore the Ponderosa Pine stands in that area and improve habitats, while making the forest more resistant to damaging fire or disease.
There will be smoke in the fire area during the current operations and most likely until the monsoons return. While the fire area is not under a closure order, the public is reminded to use caution when traveling in the vicinity of the Stubbs Fire as firefighters and fire-related traffic will be in the area.

"Fires this time of year and in areas with fewer values at risk, such as the Stubbs Fire, may employ less aggressive tactics in the name of firefighter safety and tax-payer savings," said Prescott National Forest spokesperson Debbie Maneely. "However, we never allow any fire to simply burn at will. The Stubbs Fire will be managed with a combination of tactics that may include burn out operations, line construction, mop-up and when appropriate, simple monitoring by personnel on the ground or in the air."
For more information, go to www.fs.usda.gov/prescott/.
Information provided by the Prescott National Forest
More like this story
SUBMIT FEEDBACK
Click Below to:
This Week's Circulars
To view money-saving ads...