Council looks at future growth calling for more water, roads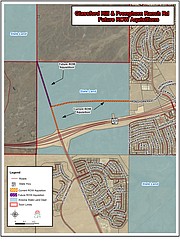 The recent issuance of a Level 2 Water Conservation Alert to residents, and the reasons for doing so, has Prescott Valley town officials re-evaluating the need for new wells balanced against the impending need for water storage tanks.
The town council met July 19 in study session to determine whether to move the Utilities Department's capital budget allocations for new storage tanks to new wells. PV Utilities Director Neil Wadsworth asked council members to increase the number of new wells in the Fiscal Year 2018-2019 budget from two to four new wells at a cost of $1.6 million. The budget already designates $1.6 million for a new well for the Mingus West area and one for the central part of Prescott Valley.
Adding two more wells to the budget means delaying the Summit 2 water tank would be delayed until July 2019, and shifting construction of the Stoneridge water main and 2- million-gallon storage tank later in the fiscal year setting a completion date by June 2019.
The Conservation Alert and the circumstances that led to it are not an indication of how much water is available for the town, said Town Manager Larry Tarkowski.
"Absolutely not. That's not the case. We're sitting on an aquifer with 250- to 300-years' worth of water," Tarkowski said.
Wadsworth said the two additional wells already were in the plans, but not until next fiscal year or thereafter. For every 3,000 new homes built, the town needs an additional one or two wells. It is up to the developer to obtain a Certificate of Assured Water through the Arizona Department of Water Resources.
The town currently has 26 wells, of which 21 are active. Four more will bring the total to 30. Tarkowski reminded council that each home pays a capacity fee for water and sewer services. With hook-up fees, this revenue helps pay for new wells.
The council also looked at engineering plans for landscape median improvements along Glassford Hill Road between Long Look Drive and Highway 89A. An agreement calls for the Granville subdivision to provide asphalt pavement for a third lane, with the town providing the roadway base.
However, construction of the third lane improvement does not meet mutual satisfaction for both the town and Granville, Ron Pine, PV Engineering Division manager, indicated in his memo to council. Instead of the third lane, Granville has proposed landscape median improvements.
Council members also looked at acquiring rights-of-way from the Arizona State Land Department in Section 34 north of Highway 89A. A private development party has recently expressed interest to develop Section 33. Dava & Associates would perform the required professional services for $30,700.
Currently, the town has rights-of-way to extend Glassford Hill Road partway north of Highway 89A with a 90-degree turn heading east to connect to Pronghorn Ranch Parkway. The proposed acquisition continues up Glassford Hill Road north to the northwest boundary of state land and Prescott Valley.
The council meets in regular session at 5:30 p.m. Thursday, July 26, in the Prescott Valley Public Library auditorium. On the agenda are possible of approval of chip seal overlay on Viewpoint Drive between Robert Road and Highway 89A, the Yavapai Road Pavement Overlay Design between Robert Road and Navajo Drive, and an agreement with Southwest Groundwater Consultants for new well evaluations and permitting Phase 1.
Fain Signature Group and Bar Napkin Productions will present a Final Development Plan for construction of a 4,600-sq.-ft. building on the west side of Centre Court south of Glassford Hill Road that will include a Dunkin' Donuts drive-thru restaurant and MOD Pizza.
SUBMIT FEEDBACK
Click Below to: