All ages invited to comic-con event Saturday in PV
Library hosting Fandomania for fun, fashion, fantasy

Originally Published: July 24, 2018 6:38 p.m.
Updated as of Thursday, July 26, 2018 8:59 PM
They come in costume – that makes attending a comic-con event all the more fun – and on July 28, the winner of the Fandomania fashion show will win a $100 gift card.
Prescott Valley Public Library is hosting a day-long comic con event for all ages. Fandomania combines comics, movies, books, gaming, virtual reality, fantasy, and those wonderfully creative costumes.
From 10 a.m. to 5 p.m. on Saturday, July 28, everyone can enjoy free workshops, board games, performances and activities.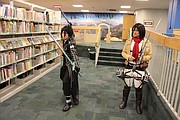 If the weather cooperates, Syndicate Saber United will perform an interactive Star Wars story for new and longtime fans at 11 a.m. at the Theater on the Green. Should it rain, this event will move inside, said Teen Librarian Shelby Marks.
Also slated for the Theater on the Green is Mario Kart Racing at noon. This cannot be moved indoors, so keep fingers crossed for clear skies. Amtgard Medieval and Fantasy Combat and Roleplay workshop offering the basics of live action roleplay using foam weapons takes place at the Theater on the Green at noon.
From 10 a.m. to 1 p.m. attendees can take part in a wand making activity and also participate in the Official Harry Potter Sorting Test and Ceremony in the Room of Requirement, also known as the Children's Program room on the second floor.
Workshops include Miniature Painting 101 hosted by Second Star Gaming at 11 a.m., Cartooning for Kids with Janimal at noon, Model Drawing Lab hosted by Mike Rogers at 1 p.m., X Wing Demo by Second Star Gaming at 2 p.m., Russ Miller presenting on Syndication at 3 p.m., and Cartooning with Sean Sautter also at 3 p.m. Workshops take place in classrooms in the Northern Arizona University building adjacent to the library.
Board games go on all day in the NAU Commons, and Virtual Reality takes place in the NAU upstairs lobby area. Face Painting for children is in the children's activity room from 1 to 4 p.m.
Storytime with Hagrid with tales of adventure and mythical creatures takes place at 12 and 1 p.m. Dungeons and Dragons, hosted by Game On!, for beginners and Dungeon Masters occurs at 11 a.m. in the Genealogy Room and again at 3 p.m. in classroom 151.
The Cosplay Fashion Show with its $100 gift card prize takes place in the Auditorium at 3 p.m. Come an hour earlier at 2 p.m. for the Geek Girls Guide to Nerd Life and a Battle of the Fandoms.
For more information, visit pvpllibrary.wixsite.com/fandomania.
More like this story
SUBMIT FEEDBACK
Click Below to:
This Week's Circulars
To view money-saving ads...