Drug ads: Companies may be selling you on a product you don't need
Originally Published: July 21, 2018 9:17 p.m.
You've no doubt seen the ads on TV, the internet, or in magazines: a drug that claims to be effective in controlling or curing a medical condition, with images of happy patients who have benefited from it.
Those sunny claims are, due to regulatory requirements, always followed by a long list of side-effects that drug has caused in some users, up to, and including, death.
For many years, pharmaceutical companies advertised their products only to doctors. That changed in a big way in 1997, when the Food and Drug Administration relaxed rules governing drug manufacturers' ability to promote their medications directly to consumers in television and print ads.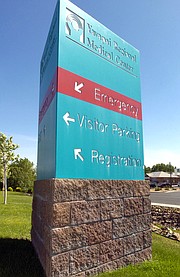 Prescription drug makers spent $6.1 billion on direct-to-consumer ads in 2017, according to data from Kantar Media.
Yavapai Regional Medical Center spokesman Ken Boush said direct-to-consumer ads serve a purpose.
'The goal is to promote a conversation between a patient and their provider about a certain product," he said. "That's why these advertisements generally direct the patient to speak to their doctor to evaluate if XYZ product would be appropriate.
"If the provider feels the product or drug is appropriate, it may lead to a prescription or referral," he said.
But the American Medical Association is strongly opposed to prescription drug ads, and, in November 2015, called for a ban on them.
According to Patrice A. Harris, M.D., president-elect, AMA support for an advertising ban "reflects concerns among physicians about the negative impact of commercially-driven promotions, and the role that marketing costs play in fueling escalating drug prices. Direct-to-consumer advertising also inflates demand for new and more expensive drugs, even when these drugs may not be appropriate."
"Pharmaceutical companies don't necessarily have a person's best interests at heart; they wish to make a massive profit," said Cadey Harrel, M.D., at the University of Arizona Department of Family and Community Medicine.
"(Advertising) often undermines the physician-patient relationship by planting a seed of doubt' about how to doctor chose a given drug, she said, pointing out that doctors take into consideration a wide variety of factors, from possible conflicts with other medications the patient is taken to whether their insurance will pay for it when they write a prescription, she said.
"Oftentimes … we haven't brought that (advertised) medication up because it isn't' really an option for you, specifically," Harell said.
INTERNET CONNECTION
UnitedHealthcare's 2017 Consumer Sentiment Survey, which polled 1,006 adults, found that nearly a third of Americans use the internet or mobile apps as their main source of information on specific health conditions.
"Gathering information via reputable sites on the Internet can be helpful," said Boush. "YRMC HealthConnect is a good example.
"Information gathered from reputable websites for instance, may help someone decide that they need to see their doctor or may help them develop talking points to discuss with their provider."
Harrel said people must be very careful that they are getting their information from a reputable website.
"The internet is an unbridled wealth of information, and not all of that information is unbiased," she said. "Anyone can publish anything on the internet and that doesn't make it factual. People tend to cherry-pick the information to fit what they think might be going on."
She gave the example of a woman who is 34 and pregnant, concerned about chest pains, who would get a very different diagnosis than a 65-year-old man who smokes who has chest pains.
"A quick search on the internet for 'chest pains' doesn't really differentiate who has it and could lead to a false sense of security … or a false sense of urgency."

And, although he said the internet may be a valuable source of information, Boush cautioned, "emergency situations are something completely different. Chest pain, for instance." For those, "don't go to the Internet. Call 911."
Follow Scott Orr on Twitter @AZNewsguy. Call him at 928-642-6999. Email him at sorr@prescottaz.com.
More like this story
SUBMIT FEEDBACK
Click Below to: