Shootout on Whiskey Row on target for next weekend
Preparation starts six months in advance, Regulators president says

Originally Published: July 19, 2018 10:06 p.m.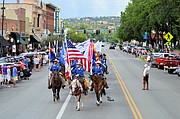 The Prescott Regulators and Their Shady Ladies have next weekend in their sights for the 13th annual Shootout on Whiskey Row.
Held from 9 a.m. to 5 p.m. Saturday and Sunday, July 28-29, the event has grown a lot in the last few years, said Prescott Regulators President Neil Thomas. Three years ago they added National Day of the Cowboy to it and to celebrate that, there will be an equestrian ride with more than 70 riders coming into Prescott Saturday afternoon. The event also has moved to Prescott Mile High Middle School.
"It used to be on the lot by the chamber," he said. "It's a lot nicer for everybody. We still have the same kind of performances going on."
A free event, attendees will have the same amount of fun they've come to expect from the Shootout on Whiskey Row with the same kind of entertainment, fashion contest, vendors, historical reenactments, and competitions for who can put on the best skit or have the best gunfight, Thomas said. People will also be reenacting what the Old West televisions shows were like, such as the Arizona Gunfighters or a professional stunt group known as Dr. Buck and the Wild Bunch.

Preparations for the Shootout on Whiskey Row start about six months in advance, Thomas said. Within those six months, the Regulators deal with the entities like the City of Prescott and the school district. "As we get closer to it, we have to move an entire small western town into the school ground and set it up and tear it down the following Monday," Thomas said. "It's a lot of work."
Anyone who is a fan of the Old West films and television shows should have a good time coming to the event and seeing about 150 to 200 people dressed up in late 1800s wear. It's the Old West as it was, or possibly should have been, Thomas said.
Though it's free, the Regulators do ask that if anyone likes what they see then they should donate. That's where the organization gets money to run the Shootout and the money for its scholarship, he said. Over the last two years, the Prescott Regulators and Their Shady Ladies have given away more than $5,000 in scholarships.
There have been changes made to who their 501c3 supports in its support of veterans and their families, he said.
"We have changed that definition quite heavily. Most places that do anything for veterans only do it for combat veterans," Thomas said. "Our feeling is that somebody that's been stationed in Europe or somebody that has been stationed almost anywhere and giving up two to four years of their life deserves to have some backup as do their families."
For more information, visit www.prescottregulators.org.
Prescott Mile High Middle School is located at 300 S. Granite St., in downtown Prescott.
More like this story
SUBMIT FEEDBACK
Click Below to: