Originally Published: July 19, 2018 9:34 p.m.
With its summer show, "Savannah Sipping Society" nearly sold out, Prescott Center for the Arts is adding a fifth and final week to its run, says the show's director Bruce Lanning.
"We haven't done something for five weeks here before," Lanning said. "We're breaking new ground over here."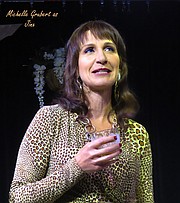 Featuring Michelle Grubert, Shari Graham, Jana Hunter and Tammy Osborne in a show where four unique Southern women meet and decided it is time to reclaim their enthusiasm for life, the reason it's doing so well is because of its summer run, he said.
Three years ago, the PCA put on a summer series where three directors put on one play a week every six weeks. This year, there weren't enough directors to do that, but Lanning said he was available at the time and the show went on. With not much going on in town, the crowds are flocking to the show.
"After the rodeo there isn't anything else for a few months," he said. "We're about the only thing in town, aside from 'Shrek,' which is the teen summer stock."
For those who have tickets already, showtimes are 7:30 p.m. Friday and Saturday, July 20-21, Thursday through Saturday, July 26-28, and Thursday through Saturday, Aug. 2-4, as well as at 2 p.m. Sundays, July 22 and 29.
The new fifth week will see showtimes at 7:30 p.m. Thursday through Saturday, Aug. 9-11, and at 2 p.m. Sunday, Aug. 5. Tickets are $17 and available online at www.pca-az.net or at the door. All showings are in Stage Too, which is the theater in the alley behind the Prescott Center for the Arts, 208 N. Marina St.
Graham, who plays Randa Covington, said her role in the show was entirely accidental. Three or four years ago, she was acting in PCA plays but then opened a business and couldn't fit in time for rehearsals and performances, she said. However, an actor friend said she should audition for this play, which resulted in her picking up the script and laughing once she started reading it.
Graham figured she'd go to the audition to have fun and wound up getting the part. She said she's having a great time with it.
Additionally, this is her first full-length straight play having only done musicals before, said Grubert, who plays Jinx Jenkins. She said she loves all the storytelling and the art.
It's quite a humorous show with publicity that states there's a laugh a minute, Lanning said. It's almost right, since some minutes there's a lot more than one laugh.
However, even with all the laughter, there's something more to the show, Graham said. "Underneath all of that, this is about celebrating the support and friendship of women for each other and some other good dramatic things," she said. "It shows how important that is."
For more information, call 928-445-3286.
More like this story
SUBMIT FEEDBACK
Click Below to:
This Week's Circulars
To view money-saving ads...