Jazz Summit holds second concert in series 7 p.m. Saturday, July 21

Originally Published: July 19, 2018 9:25 p.m.
The Prescott Jazz Summit is holding the second concert this weekend in its series replacing its usual three-day weekend festival.
A Howlin' at the Highlands Concert, which begins at 7 p.m. Saturday, July 21, at the Highlands Center for Natural History, the concert features Susannah Martin as a guest vocalist backed by musicians Dave Russell, Jack Peterson, Selwyn Reams and Cleve Huff of the Jazz Summit All-Stars Band, according to a news release from Prescott Jazz Summit co-founder Mike Vax.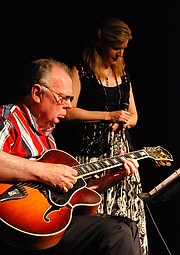 A Sedona resident, Martin has been immersed in music since she was 2 years old and her parents sent her to performing arts junior high and high schools, she said in the release. She studies classical voice, jazz and musical therapy in college. Jazz has always been her favorite musical genre and she excitedly talks about Brazilian Bossa Nova, Martin said.
"I've always loved rhythm," she said in the release. "The Latin music is famous for its complex rhythms, and jazz is known for its syncopated rhythm and so is Latin music."
Mixing Latin music and jazz creates a great marriage of styles and such happy music, Martin said. Not only will she present the audience with her Bossa Nova repertoire, but she will also sing in Portuguese so they can hear the way it was originally written.
Additionally, Martin will also perform swing tunes and ballads, including those by Duke Ellington, and vocal improvisational scat singing.
Tickets to the show are $20 and available at www.prescottjazz.com, the Highlands Center for Natural History gift shop or at the door, 1375 S. Walker Road.
This concert is part of a series of concerts the Prescott Jazz Summit is doing in lieu of their annual three-day weekend festival due to a conflict of interests that arose because of the 50th anniversary of Yavapai College, Vax said. The first concert was pretty popular.
"We had a great crowd," he said.
More like this story
SUBMIT FEEDBACK
Click Below to: