Fort Whipple reopens to the public
Originally Published: July 19, 2018 9:30 p.m.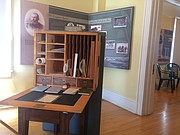 After some months of being closed down for unscheduled repairs, Sharlot Hall Museum's Fort Whipple Museum has reopened, according to Museum Media and Marketing Manager Ken Leja.
It reopened Thursday, July 12, after having closed in January because of plumbing issues, Leja said. One of the nearby trees had grown a root in to the '90s plumbing system and created a leak.
Hours for the museum are 10 a.m. to 4 p.m. Thursday through Saturday with Living History interpreters and period presentations restarting in August, on the third Saturday of each month from 10 a.m. to 3 p.m. through November.
"Anybody that's interested in military history and what were the Indian Wars all about, this is the museum," Leja said. "It's our sister museum at an old officer's quarters on Fort Whipple."
Named for Lt. Amiel W. Whipple, who led a military expedition into the area in 1853 through 1854 and established the first access routes to nearby gold fields, Fort Whipple was established in 1864 and served as a tactical base for the United States Calvary during the Indian Wars of 1864 to 1882.
A joint project of Sharlot Hall Museum and the Bob Stump Veterans Affairs Medical Center, Fort Whipple is located on the hospital grounds at 500 Highway 89. Housed in one of the 1909 military officer's quarters, the museum presents the history of Fort Whipple with exhibits including medical instruments, army weaponry, the Buffalo Soldiers, maps, photographs and memoirs written by those who were stationed at the fort.
"It was the original fort that was here to protect the miners when we had discovered gold back in 1863, 1864. It was the fort that (Fiorello H.) La Guardia had grown up at with his parents," Leja said, referencing the 99th mayor of New York City who served from 1934 to 1945. "It was the fort that was created with the original governor's party that was to protect Americans, the settlers, the frontiersmen and to help tame the Wild Wild West of Prescott."
For more information, visit www.sharlot.org.
More like this story
SUBMIT FEEDBACK
Click Below to:
This Week's Circulars
To view money-saving ads...