Obituary: Charles Gerard "Chuck" Elliott
Originally Published: July 18, 2018 8:01 p.m.
Charles Gerard "Chuck" Elliott, 82, a long-term resident of the Cliff Rose neighborhood in Prescott, Arizona, passed away in the early morning hours of July 10, 2018, after a long battle with respiratory disease.
Chuck Elliott was the first child born to Charles M. Elliott and Bernice W. (Chouteau) Elliott on Oct. 29, 1935, in Los Angeles, California. Chuck graduated from North Hollywood HS in 1954, where he was a member of the varsity football team and an Eagle Scout. After graduation, Chuck went on to study at the University of Southern California, where he became a member of the Alpha Chapter of Sigma Phi Delta fraternity and earned his Bachelor of Science degree in Civil Engineering, class of 1959.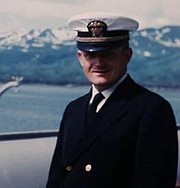 In that same year, Chuck married Sylvia Ann Herter and became a commissioned officer in the United States Coast & Geodetic Survey (USC&GS), commonly referred to as the Coast Survey. Upon completion of his service with the USC&GS, he began a civil service career with the United States Navy. Notably, later in his career, he served as a facilities
liaison between the Navy and a group of engineers and designers from Lockheed Martin's Skunk Works program to test a prototype for the Navy's first "stealth" ship known as the Sea Shadow. He retired after 30 years of service as a project test manager at the Pacific Missile Test Center at Pt. Mugu, California, in 1990 and moved to Prescott with his wife, Sylvia, in 1994. Chuck became a familiar patron at many Prescott area businesses, and in local restaurants he was known to be a "really nice customer" and a very generous tipper.
After the passing of his wife, Sylvia, in 2002, and dealing with the tremendous sense of loss and grief that this presented, Chuck eventually decided to attend a bereavement support group and struck up a friendship with another recently widowed woman named Alice. They eventually decided to share his home and both enjoyed another 15 years of wonderful companionship and support until her passing in 2017.
Chuck will be remembered by his friends and neighbors as a proud and generous man with true integrity and a heart of gold. Although his family is grieving his loss, they are grateful that his pain and suffering from end-stage respiratory disease (partially caused by exposure to asbestos in his early career) is no more. He departed peacefully with his only surviving child, Catherine, by his side.
Chuck is survived by his brother, William M. Elliott and his wife, Floracita, of Brush Prairie Washington; daughter, Catherine (Cathy) Elliott of Henderson, Nevada; nieces, Carrie Sparks and Ashley Elliott of Vancouver and Port Orchard, Washington, respectively; nephew, Brian Elliott of Portland, Oregon, along with their spouses and children. He will be fondly remembered and dearly missed by all who knew him.
A private graveside service for internment of Chuck's ashes next to his beloved Sylvia is planned for Aug. 11 at Heritage Memorial Park in Dewey, Arizona. Following the private service, friends and neighbors who knew Chuck are invited to honor his memory at a Celebration of Life brunch to be held at the Prescott Resort and Conference Center beginning at 11:30 a.m., on Aug. 11, 2018. For more information on this memorial event, please email ElliottMemorialRSVP@gmail.com
Information provided by survivors.
More like this story
SUBMIT FEEDBACK
Click Below to:
This Week's Circulars
To view money-saving ads...