Author talks 'Arizona's Deadliest Gunfight' at Sharlot Hall
Many theories surround cause

Originally Published: July 18, 2018 8:33 p.m.
Historian and author Heidi Osselaer asserts that Arizona's deadliest gunfight was not at the O.K. Corral, but at the Powers Cabin in the Galiuro Mountains.
"When the dust settled that Sunday morning in February 1918, four men were dead — three lawmen and a miner," according to a news release from Sharlot Hall Media & Marketing Manager Ken Leja. "The attempt to arrest draft dodgers was initiated by law enforcement officers of Graham County, but the survivors of the gunfight were found guilty of premeditated murder and sentenced to life in prison."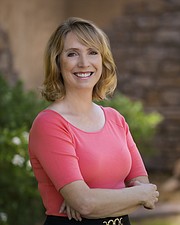 Osselaer, author of "Arizona's Deadliest Gunfight: Draft Resistance and Tragedy at the Power Cabin, 1918," is set to go into the details of the event at a presentation at Sharlot Hall Museum at 2 p.m. Saturday, July 21. The lecture is free and seating is limited.
The circumstances surrounding the gunfight were improbable, such as a federal posse traveling all night on horseback through rugged terrain with a winter storm approaching to arrest men for alleged non-violent crimes, the release states. The improbability has led to one school of thought that vengeance was the real motive.
In the midst of public opinion stimulated by propaganda in favor of World War I, which was going on in Europe at the time, many in Arizona were against the first, large-scale draft of men into the army. And though failure to register was a minor federal offense, draft evaders were labeled enemies of the state.
"Censors expunged antiwar comments from media and encouraged individuals to report anyone who spoke against the war effort," the release states. "Among them were Jeff Power, his sons Tom and John, and hired hand Tom Sisson – targets for the federal posse. The family view was, 'this is your war… we don't want nothing to do with your war!"
Supporters of the arresting sheriff and his posse, as well as that of the Powers group have theories as to what explains the botched arrest, which led to the gunfight and other theories are prevalent. Osselaer will also share some of those theories along with other footnotes behind the book during her lecture Saturday.
For more information, call the Sharlot Hall Museum, 928-445-3122, or visit www.sharlot.org. The museum is located at 415 W. Gurley St.
More like this story
SUBMIT FEEDBACK
Click Below to: