United Express set to begin flights from Prescott in late August
New era of travel

By
Cindy Barks
|
Cindy_Barks
Originally Published: July 17, 2018 10:31 p.m.
Although the specifics for United Express/SkyWest's service from the Prescott Municipal Airport are still being finalized, tentative details include:
• Denver flights are expected to depart Prescott at 9 a.m. and depart Denver for Prescott at 12:30 p.m., daily, Sunday through Saturday.
• Los Angeles flights will depart Prescott at 1:50 p.m. and depart LAX at 8:15 p.m. The flights will occur Sunday through Friday (no Saturday service).
• Average fares for the two destinations were estimated in the airline's proposal at $87. The exact fares are expected to become public no later than Monday, July 23.
• SkyWest expects that staffing at the Prescott Airport would include 12 to 13 people.
• United Express will use 50-seat CRJ-200 jets for the service. The flights will include flight-attendant service.
• The CRJ-200 aircraft features a lavatory in the back.
• City officials say reservations for the flights will be made through United Airlines' website (united.com) – not SkyWest.
• The City of Prescott plans to launch a marketing strategy in coming weeks to let the region know about the new air service. The city has retained CRAF 2M, a local marketing company led by Cadu Medina.
In a move that local officials term "a long time in coming," and a "paradigm" shift for local travelers, a major airline will begin offering flights at the Prescott Airport within about a month.
The U.S. Department of Transportation (DOT) issued an eight-page order Monday, July 16, announcing the selection of SkyWest Airlines, operating as United Express, to provide commercial air service to Prescott under the Essential Air Service (EAS) subsidy program.
That means that after a hiatus of about five months, the Prescott Municipal Airport will again have commercial service.
By no later than Monday, July 23, passengers should be able to book flights from the Prescott Airport to Los Angeles and Denver, as well as hundreds of destinations beyond.
Service is expected to begin by late August, and it will feature much larger aircraft than has been the case in recent years. United plans to use 50-seat CRJ-200 jets for its flights to Los Angeles International Airport and Denver International Airport.
That compares with the previous service from Great Lakes Airlines, which originally promised 30-seat Brasilia airplanes, but often operated its flights with Beech 1900-D airplanes that were reconfigured to nine passenger seats. Great Lakes suspended its service in late March, and Prescott has been without commercial air service since that point.
In the meantime, the U.S. DOT issued an emergency request for replacement service. After a round of proposals for interim service, which Prescott recommended rejecting, the federal department received seven proposals by July 2 for long-term service.
Among them was the SkyWest/United proposal that featured 12 weekly round-trips to Denver and Los Angeles for an annual subsidy of $3,983,055. That compares with the $2,798,419 subsidy that Great Lakes had been receiving for its flights to LAX and Denver.
Prescott Airport Director Robin Sobotta maintains that along with the larger aircraft, SkyWest/United would bring "an increase in reliability."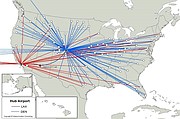 In the city's letter of recommendation to the U.S. DOT, Mayor Greg Mengarelli stated, "SkyWest is the largest regional airline in the United States (annual revenue $3.2 billion) with a fleet of 400+ aircraft, fully integrated codeshare relationships with American, Delta, and United, a long history of very successful EAS service, and current EAS service at 38 cities."
The average SkyWest EAS airport generates 30,000 annual passengers, Mengarelli's letter continued.
Because of SkyWest's fully integrated relationship with United (as United Express), Mengarelli added, "published connect market air fares at Prescott will not be sum of two locals (as is the case with every other carrier), but will instead be highly competitive with those offered at Phoenix."
SkyWest spokesman Layne Watson said the airline decided to make a proposal for service in Prescott because, "Through our interactions with the community, it was obvious that there is a great demand for reliable air service. We're looking forward to providing it."
Watson said the airline plans flights to Denver, departing at 9 a.m., and departing Denver for Prescott at 12:30 p.m. — running daily from Sunday through Saturday.
The Los Angeles flights are expected to leave Prescott at 1:50 p.m. and return at 8:15 p.m., from Sunday through Friday (no Saturday service).
LOCAL SUPPORT
The news of the U.S. DOT's finalization of the SkyWest/United's proposal prompted widespread support from community leaders.
Along with Mengarelli's view that United Express would change the travel paradigm for area residents, support also came from Prescott Valley Mayor Harvey Skoog, State Sen. Karen Fann, and Prescott Chamber of Commerce President Sheri Heiney.
"It's been a long time coming," Fann said. "Prescott really does need air service. More and more businesses are coming, and I-17 is just getting worse and worse. I think (the arrival of United Express) is a huge, important step."
Heiney stressed the importance of the Los Angeles market to Prescott's tourism. "Los Angeles is the number two market for tourism in Prescott," she said. "The added convenience of flying directly into Prescott Will strengthen our appeal as a destination for leisure and business travel."
PROSPECTS FOR GROWTH
Among the points that arose during city officials' discussion of the seven airline proposals was the fact that SkyWest would offer basically one flight a day to the two destinations, while some of the smaller airlines offered several daily flights in nine-seat aircraft. Locals asked whether United Express' frequency might increase.

In a telephone interview, Watson said that would be a question for the future.
"For now, our focus will be on ensuring the success of what's already in place," he said, adding, "I can't emphasize enough the importance of supporting what's already in place, so we can have those discussions in the future."
SkyWest Airlines is based in St. George, Utah. According to its website, the airline has more than 13,000 aviation professionals operating more than 2,400 daily flights, "SkyWest Airlines connects millions of passengers each month to 245 destinations across North America. SkyWest Airlines operates in partnership with Delta Airlines, United Airlines, American Airlines, and Alaska Airlines, and has a fleet of 443 aircraft," the news release added.
Along with SkyWest, other airlines submitting proposals were: Advanced Air, ADI/California Pacific Airlines, Boutique Air, Key Lime Air, Mokulele Airlines, Silver Airways, and SkyWest Airlines – bidding a variety of locations including Los Angeles, Denver, Phoenix, Las Vegas, and Hawthorne, California.
SUBMIT FEEDBACK
Click Below to:
More like this story