Who is a good candidate for whitening treatments?
My teeth are sensitive
Jason C. Campbell, DDS & Rick Farnsworth, DDS
Originally Published: July 17, 2018 8:01 p.m.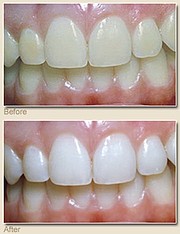 This is an excellent question and is one we receive frequently at Pro Solutions. Even people with sensitive teeth can comfortably experience in-office professional whitening and enjoy the benefits of a white and bright smile.
If you are considering in-office whitening, the American Dental Association suggests that you schedule a consultation appointment with your dentist, to discuss your options and answer any questions you may have about the procedure. Even if you are considering an at-home whitening kit, it is suggested that you discuss it with your dentist first.
Not all kits are created equal. Some may be abrasive or damaging to teeth and gums, doing more harm than good for your overall oral health. It is especially important for patients with many fillings, crowns, and extremely dark stains to receive a consultation. This ensures your dentist can answer your questions and get your whitening protocol completed properly.
Discuss with your dentist your concerns about tooth sensitivity, and your provider will evaluate if the cause is because of tooth decay, periodontal disease, or a more serious oral health issue. Once the examination has been completed, it will be determined which whitening protocol is appropriate.
SENSITIVITY
Another question we receive often is: "Why are my teeth so sensitive after receiving a whitening treatment?"
When a patient has a whitening treatment, the hydrogen peroxide in the gel opens the dentinal tubules to dissolve surface stains. The dentinal tubules are tiny tubes that extend from the pulp in the center of your teeth. Once the tubules become exposed from the hydrogen peroxide, it can stimulate the nerve inside the
tooth causing sensitivity to increase.
Another reason sensitivity increases after whitening, is the tooth may become dehydrated. Often the tooth rehydrates in 24 hours, resulting in less sensitivity. Sometimes during the whitening procedure, people will also experience what is known as "zingers." If the whitening procedure is completed correctly, your dentist can implement the correct protocols to reduce or eliminate this sensation.
We have established protocol for our comprehensive whitening process which includes four appointments. At your first appointment, an impression will be made of your teeth with a custom mouth tray, and your tooth color recorded.
At the second appointment, the custom trays will be fitted, and the patient will receive instructions on how to maintain and use the trays at home before the next appointment. Patients are also provided with at-home whitening gel and fluoride gel. This is essential for patients with sensitivity, as it can best prepare the teeth to receive the whitening, while reducing potential for sensitivity.
The third appointment is when the in-office whitening process takes place. A whitening gel is applied to the teeth and teeth are exposed to the light from the ZOOM! lamp for 3 to 5 sessions of 15 minutes each. To avoid sensitivity, potassium nitrate soothing gel is placed into the custom trays and the patient is instructed to wear them for as long as possible for the remainder of the day. Soothing gel can also be placed in the at home trays while sleeping. Some patients may require the administration of NSAIDS medications to manage sensitivity after treatment.
At the final appointment, a patient's final tooth shade is determined. With the proper professional teeth whitening protocols in place, most patients, with or without sensitivity, can enjoy the benefits of a whiter, more brilliant looking smile!
Jason C. Campbell, DDS & Rick Farnsworth, DDS are with Pro Solutions, 139 Whipple St., Prescott. www.prescottdentist.com.
More like this story
SUBMIT FEEDBACK
Click Below to: