Monsoon flooding postpones opening of historic Castle Hot Springs

By
Cindy Barks
|
Cindy_Barks
Originally Published: July 17, 2018 6:01 a.m.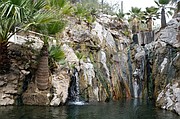 A storm that brought "torrential walls of water" to the remote Castle Hot Springs in southern Yavapai County has pushed off the highly anticipated opening of the historic resort.
Steven Sampson, director of national sales for Westroc Hospitality, said Monday, July 16, that a storm the previous week had brought a mass of mud and rocks into portions of the resort.
"Castle Hot Springs sustained heavy flooding and rockslides during last week's monsoon," Sampson said, noting that the storm was the same system that brought flooding to the Phoenix-Scottsdale area on July 11.
Stressing that the resort suffered no structural damage, Sampson said, "We're good; it's just going to set us back a little bit."
Although Sampson had estimated this past March that the resort would be open by October, he said that estimate has now been pushed to early November.
Crews are currently working to clean up the mud and rocks that deluged the historic hot springs area and grotto, as well as the area where 19 sky-view cabins will be located. The cabins have yet to be built in the space, so they were not damaged, Sampson said.
Although no rain gauges were on site at the resort, Sampson said a video from the storm showed "torrential walls of water" during the monsoon storm. The rainfall was unusually heavy, he said, noting that in the several years that the company has been working on the site, no such damage had previously occurred.
A number of areas at the resort were spared from the flood damage, including the Farm at Castle Hot Springs, which includes a garden and 1,237-square-foot greenhouse. When complete, Sampson said, "The Farm at Castle Hot Springs will yield over 150 varieties of organic fruits and vegetables for the restaurant."
Since Sampson's initial announcement about the resort renovations this past spring, a number of developments have occurred, including:
• Maureen and Terry Bauer are on board as the resident resort manager team. Terry is a 25-year veteran of the Chicago Police Department and a former director of security at Westroc's Sanctuary on Camelback Mountain Resort and the Hotel Valley Ho. Maureen has served as head concierge at The Phoenician and with Fairmont Hotels & Resorts.
• Christopher Brugman, graduate of Le Cordon Bleu, has been named executive chef.
• The resort's historic stone house has been rebuilt with many of the original rocks mined from a nearby quarry. The stone house will serve as a function room and chapel for weddings.
• Castle Hot Springs is being termed a "tranquil adult retreat" that embraces a "digital detox philosophy."
• The resort brewery that will produce Castle Hot Springs Lithium Lager and other ales should be on-site at the resort's old laundry building by summer 2019.
Castle Hot Springs dates back to the late 1800s, and was once a mecca for winter visitors among the nation's rich and famous. The resort has been largely deserted since the 1970s when fire destroyed the main building.
Westroc Hospitality has been working on its renovations since about 2015, Sampson said, adding that plans involve bringing Castle Hot Springs back to its former glory.
Plenty of people are anticipating the opening. Sampson said he has received about 2,100 emails from people who want to book reservations.
"The amount of response I got from people is amazing," he said.
Booking for the resort has not yet started, although Sampson said several group events are already planned in the winter and spring of 2019.
Castle Hot Springs is located about 94 miles from Prescott. The fastest route is via Highway 69, Interstate 17, the Carefree Highway (Highway 74), and Castle Hot Springs Road.
More like this story
SUBMIT FEEDBACK
Click Below to:
This Week's Circulars
To view money-saving ads...